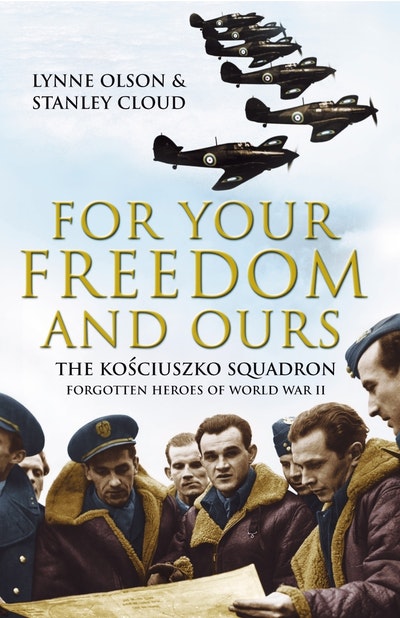 Published:

1 July 2010

ISBN:

9781407096636

Imprint:

Cornerstone Digital

Format:

EBook

Pages:

512
For Your Freedom and Ours
---
---
---
The heroic, inspiring, tragic and extraordinary true story of the Polish pilots who fought for the RAF in the Battle of Britain during the Second World War. A remarkable and moving example of a popular history book at its best and a great testament to the wartime bravery and honour of the forgotten heroes of World War Two.
Members of the Polish Air Force fought through the defeat of their own country in 1939 and then alongside the French until the fall of France the following year, when they made their varied ways to Britain. There the Poles were among the Royal Air Force's most successful ace pilots. During the Battle of Britain, the pilots of the all-Polish Kosciuszko Squadron - 303 Squadron to the RAF - shot down more German planes than any other squadron. According to Britain's wartime air force minister, without the Polish pilots 'our shortage of trained pilots would have made it impossible to defeat the German air force and so win the Battle'.
This gripping book tells the story of the Polish pilots, who flew and fought for the British RAF in World War Two. It follows five of these pilots from defeat in Poland and France to victory in the Battle of Britain, from their idolisation by the public to the harrowing story of their betrayal, and Poland's, by Britain and the USA as the war came to its closing stages. This is an utterly fascinating story, heroic, inspiring and finally tragic, strikingly well-told.
Published:

1 July 2010

ISBN:

9781407096636

Imprint:

Cornerstone Digital

Format:

EBook

Pages:

512
Praise for For Your Freedom and Ours
An astonishing achievement! Lynne Olson and Stanley Cloud give us a fascinating account of the extremely well documented heroic and daring struggle of a group of Polish military pilots and through it they present us a glimpse of the harrowing history of Poland and Europe during the Second World War.

Ryszard Kapuscinski
A wonderful story, wonderfully told. Heroism and betrayal make for heady reading, and this book is long overdue.

Norman Davies, The Sunday Times