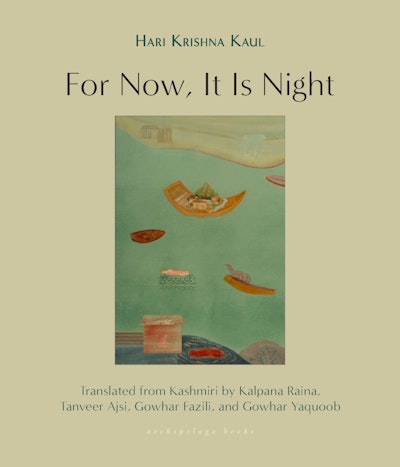 Published:

26 March 2024

ISBN:

9781953861788

Imprint:

Archipelago

Format:

Paperback

Pages:

208

RRP:

$45.00
For Now, It Is Night
Stories
---
---
18 lively short stories provide an irreverent examination of exile, drawn from the ever-observant pen of one of Kashmir's most prominent writers
Brought into English by a team of translators, these 18 short stories are a masterful collaborative effort, often achieved through repeated listening's to recordings of the Kashmir. Together, they recover the small and large dramas of a syncretic society since unravelled in these musical, rhythmic stories.
Rescued from an old Kashmiri home and brought together from the pages of out-of-print magazines and fading library copies, this collection resurrects the work of a doyen of Kashmiri Pandit literature, never before translated into English. Kaul's candid stories spill over with detail as they convey everyday life in a Kashmir rendered extraordinary by simmering political conflict and the 1990s exodus of the Pandit community.
In prose that captures the dramatic intensity of the radio and television plays Kaul wrote for a Kashmiri-speaking audience, his characters navigate their ever-changing environs with biting humour as they make uncomfortable compromises to survive.
From two students who fret that the world will pass them by as they fail to memorize their times tables, to a woman clinging to her pretensions while spending an uneasy exile at her daughter-in-law's Delhi home, to a father and son confined to a crumbling house under mysterious curfew — Kaul's stories catalogue and dissect the tenuous way people struggle to find relevance in their new surroundings.
Published:

26 March 2024

ISBN:

9781953861788

Imprint:

Archipelago

Format:

Paperback

Pages:

208

RRP:

$45.00