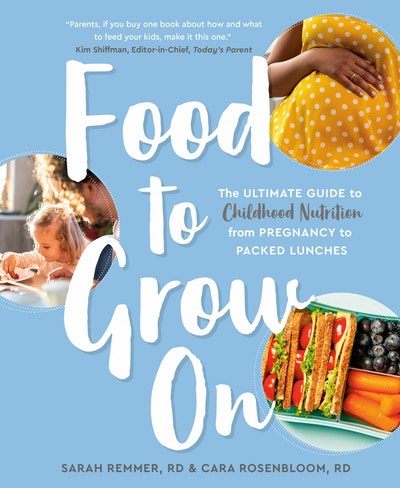 Published:

18 May 2021

ISBN:

9780525609995

Imprint:

Appetite by Random House

Format:

Paperback

Pages:

400

RRP:

$39.99
Food to Grow On
The Ultimate Guide to Childhood Nutrition--From Pregnancy to Packed Lunches
---
---
The definitive guide on childhood nutrition, packed with practical advice for meeting kids' nutritional requirements in each stage of early life, from the womb to the start of school.
As all parents know, feeding kids is tough. Finding the balance between the foods kids want and the healthy foods they need can be an overwhelming challenge, but as moms and childhood health experts Sarah Remmer and Cara Rosenbloom show, these foods can be one and the same! Backed by hard-earned parenting wisdom and the very latest research in pediatric nutrition, Food to Grow On provides answers to the most common and pressing questions among parents, from the best methods for weaning babies, to how to get toddlers to just sit down and eat. Included inside are answers to questions like:
Which fish should I avoid during pregnancy? How do a lose my baby weight in a healthy way? How often should I breast or bottle feed? How much iron does my 6 month old need? What are the first foods for starting solids? Is homemade formula safe? What do I need to know about raising a vegan baby? My toddler won't sit still a mealtimes, what should I do? My child is hooked on snacks but eats nothing at dinner--how do I change this? How can I make school lunches my child will actually eat? I have a treat-obsessed child--help?!
With the understanding and relatable voices of the moms next door, but with zero judgement and a huge dose of support, Sarah and Cara guide readers through eating for two, breast and bottle feeding, the transition to solid foods, and far beyond. Easy, kid-approved recipes complete each chapter and help parents apply the nutritional information they have learned to day-to-day life.
With a tangible passion and dedication to the topic, Sarah and Cara end the hunt for a one-stop guide to feeding kids through key stages of development. With answers to all the questions that may arise for years to come, Food to Grow On is the perfect companion to a growing family of healthy and happy eaters.
Published:

18 May 2021

ISBN:

9780525609995

Imprint:

Appetite by Random House

Format:

Paperback

Pages:

400

RRP:

$39.99