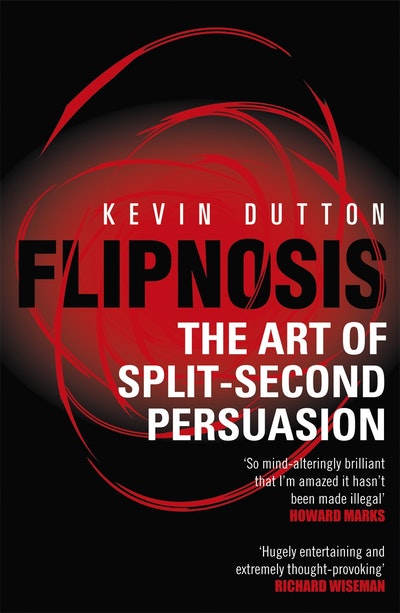 Published:

2 May 2011

ISBN:

9781446440995

Imprint:

Cornerstone Digital

Format:

EBook

Pages:

400
Flipnosis
The Art of Split-Second Persuasion
---
---
---
Brilliant, funny and provocative exploration of instant persuasion, based on research with con-men, psychopaths, advertisers and many more.
'What if I were to tell you that a psychopathic arsonist might also be the person most likely to save you from a burning building?'
*This book is about a special kind of persuasion: 'flipnosis'. It has an incubation period of just seconds, and can instantly disarm even the most discerning mind. Flipnosis is black-belt mind control. It doesn't just turn the tables, it kicks them over.
*From the malign but fascinating powers of psychopaths, serial killers and con men to the political genius of Winston Churchill - via the grandmasters of martial arts, Buddhist monks, magicians, advertisers, salesmen, CEOs and frogs that mug each other - Kevin Dutton's brilliantly original and revelatory book explores what cutting-edge science can teach us about the techniques of persuasion.
Published:

2 May 2011

ISBN:

9781446440995

Imprint:

Cornerstone Digital

Format:

EBook

Pages:

400
[A] wide-ranging and entertaining tour of the science of persuasion and influence . . . exposing, along with many other wonders, just how many scientists are currently at work in the shadowy territories of human personality, psychological improvement and, essentially, mind control

The Sunday Times
Flipnosis offers some powerful insights into the art and science of getting people to do what you want. You can't fault Dutton's eye for a good story . . . The book contains plenty of tricks to help you get your own way or turn around a sticky situation

New Scientist
As fascinating as it is alarming . . . Read it. Apply it

Men's Health
Brilliant . . . Kevin Dutton is simply a genius. I now tell his stories as if they were my own

Andy McNab
Eminently readable . . . presents brilliant and highly original advice on how to get someone to do something

V.S.Ramachandran
Fascinating, intelligent and accessible . . . Full of useful techniques, this book will help you get your own way in every aspect of life

Scarlet Magazine
Hugely entertaining and extremely thought-provoking

Richard Wiseman, author of Quirkology
Kevin Dutton is not the Messiah. But he's got a whole bunch of stories and parables that shed new light on how we are persuaded.

Terry Jones and Michael Palin
Once you start reading this absorbing book, you see attempted flipnosis everywhere - and there's no better example than the word 'flipnosis' itself. Having promised you the secrets of this great phenomenon, Dutton keeps you waiting for them until well into the second half of the book, by which time you are well and truly hooked. He is no mean flipnotist, which I'm sure he'll take as the greatest possible compliment

The Daily Mail
So mind-alteringly brilliant that I'm amazed it hasn't been made illegal

Howard Marks
Truly fascinating

Time Out