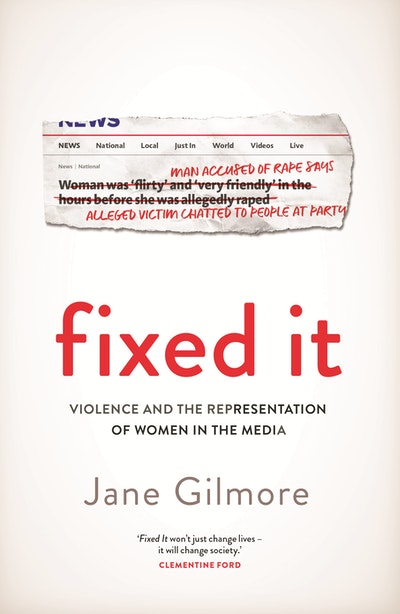 Published:

3 September 2019

ISBN:

9780143795506

Imprint:

Viking

Format:

Trade Paperback

Pages:

288

RRP:

$34.99
Fixed It
---
---
---
Violence and the representation of women in the media.
On average, at least one woman is murdered by a current or former partner every week in Australia. Far too many Australian women have experienced physical or sexual violence. Only rarely do these women capture the attention of the media and the public. What can we do to stem the tide of violence and tragedy?
Finally, we are starting to talk about this epidemic of gendered violence, but too often we are doing so in a way that can be clumsy and harmful. Victim blaming, passive voice and over-identification with abusers continue to be hallmarks of reporting on this issue. And, with newsrooms drastically cutting staff and resources, and new business models driven by rapid churn and the 24 hour news cycle journalists and editors often don't have the time or resources bring new ways of thinking into their newsrooms.
Fixed It demonstrates the myths that we're unconsciously sold about violence against women, and undercuts them in a clear and compelling way. This is a bold, powerful look at the stories we are told – and the stories we tell ourselves – about gender and power, and a call to action for all of us to think harder and do better.
Published:

3 September 2019

ISBN:

9780143795506

Imprint:

Viking

Format:

Trade Paperback

Pages:

288

RRP:

$34.99
With her razor sharp wit and impeccable research skills, Jane Gilmore's Fixed It has delivered into the world a text that is essential to understanding the insidious ways our media minimises the impact of men's violence against women. #FixedIt won't just change lives - it will change society."

Clementine Ford
Jane Gilmore is not just changing how we think, she is changing how we use our words and maybe she is the first person to get those things the right way round.

Jane Caro
You have to stand outside the goldfish bowl to see the water. Jane Gilmore's position as an "outsider" entering journalism on her own terms allows her to challenge the toxic assumptions behind how violence against women is reported. It's an important contribution.

Margaret Simons
Gilmore's Fixed It is a potent reminder of the dangers of dehumanising stereotypes, and the importance of interrogating and rethinking the way violence is reported on and discussed.

Tara Moss
Jane Gilmore tirelessly 'fixes' headlines that excuse or trivialise violence and abuse. Fixed It is her way of pushing back against the media's erasure of violent men and blaming of innocent victims.

Natasha Stott Despoja
Are you frustrated by the way that gendered violence is represented in the media? Are you tired of reading headlines about 'nice, polite' murderers from 'a good family'? Are you sick of any kind of rhetoric around the idea that a murdered or assaulted woman can be 'asking for it'? Jane Gilmore is too, and Fixed It is her response. Fixed It demonstrates the myths that we're unconsciously sold about violence against women, and undercuts them in a clear and compelling way. This is a bold, powerful look at the stories we are told – and the stories we tell ourselves – about gender and power, and a call to action for all of us to think harder and do better.

Readings blog
Sisters in Crime Davitt Award
Shortlisted • 2020 • Non-fiction crime