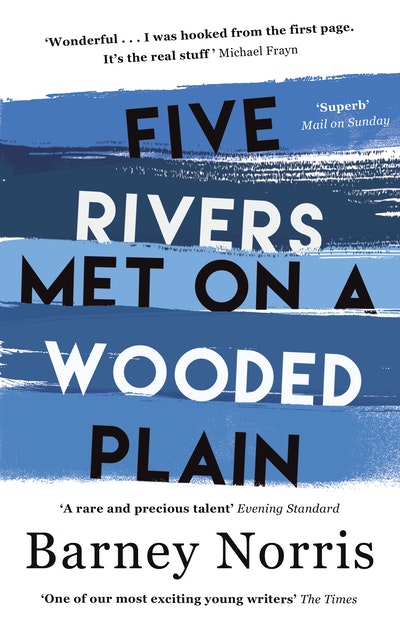 Published:

15 November 2016

ISBN:

9781784161354

Imprint:

Black Swan

Format:

Paperback

Pages:

288

RRP:

$19.99
Five Rivers Met on a Wooded Plain
---
---
---
A moving literary debut from a prizewinning young writer - a story of the joys and tragedies in everyday lives.
A Times bestseller
'Wonderful...I was hooked from the first page. It's the real stuff.' - Michael Frayn
'Deeply affecting' - Guardian
'Superb' - Mail on Sunday
'Barney Norris is a rare and precious talent' - Evening Standard
'There exists in all of us a song waiting to be sung which is as heart-stopping and vertiginous as the peak of the cathedral. That is the meaning of this quiet city, where the spire soars into the blue, where rivers and stories weave into one another, where lives intertwine.'
One quiet evening in Salisbury, the peace is shattered by a serious car crash. At that moment, five lives collide – a flower seller, a schoolboy, an army wife, a security guard, a widower – all facing their own personal disasters. As one of those lives hangs in the balance, the stories of all five unwind, drawn together by connection and coincidence into a web of love, grief, disenchantment and hope that perfectly represents the joys and tragedies of small town life.
Barney Norris's third novel, The Vanishing Hours, will be published in July 2019.
Published:

15 November 2016

ISBN:

9781784161354

Imprint:

Black Swan

Format:

Paperback

Pages:

288

RRP:

$19.99
Praise for Five Rivers Met on a Wooded Plain
Wonderful…I was hooked from the first page. Barney has the real novelist's ability to inhabit different characters, and to make the texture of life tangible and compelling. Everything he writes about love, loss, grief, desolation, and moments of hope and illumination rings absolutely true. It's the real stuff.

Michael Frayn
Remember the name Barney Norris. He's a new writer in his mid-twenties, but already outstanding.

Times
Looks well beyond the literary intelligentsia's world, describing with great humanity five ordinary lives, and coming close, as it does so, to being a "state of the nation" novel – albeit one with none of the bombast the term usually implies…deeply affecting…a tolerant and insightful debut

Guardian
Barney Norris is a rare and precious talent...a writer-chronicler to be cherished.

Evening Standard
Outstanding...a moving, strangely uplifting novel that grapples with the coarse substance of everyday existence and poetically celebrates its passage. Superb.

Mail on Sunday
Extraordinarily involving and perceptive...a picture of a society evoked through its injured members. A most remarkable book.

Bernard O'Donoghue
Norris has a gift for tapping in to ordinary lives and finding the extraordinary in them...emotional, compelling and thought-provoking

Daily Mail
Barney Norris' first novel has the deep emotional power and accuracy of his admired plays, and more: a sweeping study of how, in everyone's lives, memory and imagination may intersect with chance.

David Hare
Compelling...Norris never loses sight of the love there is to be found in the world as long as one is willing to seek it out and fight to keep it.

Evening Standard
Brilliant and multi-layered...the author has an uncanny ability to capture even the tiniest nuances of each character

The Herald
Riveting

Radio Times
Powerful...this young writer is capable of convincing compassion

Times
Norris writes beautifully, unearthing extraordinary depths in the everyday...a memorable writer, mature beyond his years.

Sunday Times
Norris writes beautifully, unearthing extraordinary depths in the everyday...a memorable writer, mature beyond his years.

Sunday Times
Just shimmering

Sainsburys Magazine
Remarkable...makes you thrill to be alive

Financial Times