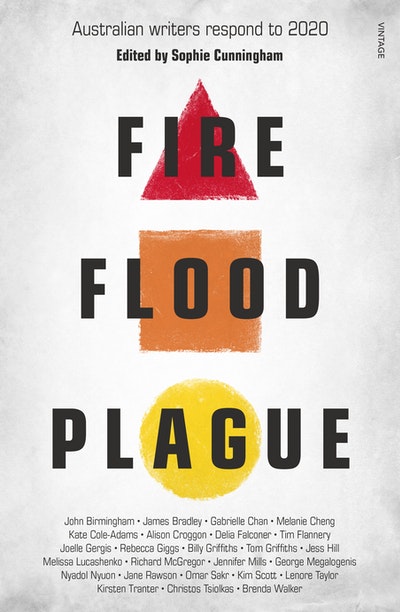 Published:

1 December 2020

ISBN:

9781761040405

Imprint:

Vintage Australia

Format:

Trade Paperback

Pages:

256

RRP:

$29.99
Fire Flood Plague
Australian writers respond to 2020
---
---
---
Leading Australian writers respond to the challenges of 2020, to create a vital cultural record of these extraordinary times.
2020 began with firestorms raging through the country, followed by floods, and then a global pandemic that has changed how Australians think, feel and live. We all experienced this year differently, but one thing rings true for all of us: this is a year we won't forget.
This anthology brings together original work from a diverse collection of Australian voices, from writers to scientists, journalists to historians, all expressing what 2020 meant to them. They write of ash falling from the sky, fish dying on riverbanks, loved ones lost, loved ones reunited, the historical resonance of fire and plague for Indigenous Australians, geopolitical tensions, the changed nature of travel, friendships rekindled on Zoom, the urgency of the Black Lives Matter movement, the state of the arts and the media, the importance of nurturing our inner lives, communities destroyed and communities rebuilding.
FIRE FLOOD PLAGUE is a vital cultural record of the resilience and humanity needed in these extraordinary times.
Including original pieces from Lenore Taylor, Nyadol Nuon, Christos Tsiolkas, Melissa Lucashenko, Billy Griffiths, Jess Hill, Kim Scott, Brenda Walker, Jane Rawson, Omar Sakr, Richard McGregor, Jennifer Mills, Gabrielle Chan, John Birmingham, Tim Flannery, Rebecca Giggs, Kate Cole-Adams, George Megalogenis, James Bradley, Alison Croggon, Melanie Cheng, Kirsten Tranter, Tom Griffiths, Joëlle Gergis and Delia Falconer.
Published:

1 December 2020

ISBN:

9781761040405

Imprint:

Vintage Australia

Format:

Trade Paperback

Pages:

256

RRP:

$29.99
Praise for Fire Flood Plague
This diverse and inclusive collection of short essays by prominent and emerging writers attempts to capture the sheer size and pervasiveness of a year of collective calamity. While certain environmental and political themes recur, a common feature of this compelling anthology is that no two responses are the same. In addition to highly personal accounts of the minutiae of dis­aster, there are analyses of what is happening more broadly in terms of plans for economic ­recovery, food security, water management policy, the media and international power relations.

Simon Caterson, The Australian
Laid bare in Fire, Flood, Plague is the terrifying, sad and urgent reality of climate change, in the form of last summer's megafires and subsequent floods, including the destruction of one billion native animals. Myriad perspectives come from an impressive assemblage of writers, including John Birmingham, Delia Falconer, Melanie Cheng, Christos Tsiolkas, Brenda Walker, Kim Scott and Tim Flannery, among others. The essays are engrossing, weaving the personal, political and philosophical, and their brevity is ideal, making this volume easy to dip in and out of.

Joanne Shiells, Weekly Book Newsletter
When people ask if you remember where you were when you realised Covid-19 was a thing, they are asking when you realised it was going to affect you, but in most of our lifetimes, there has been nothing as universal. What happens reading the essays here – each, in their own way, irrefutably moving – is not unlike the slow release of therapy. We may never stop with the 2020 reckoning, but recovery and progress can only begin with the type of deep and broad thinking exhibited here.

Louise Swinn, The Saturday Paper
There is much in this little gem of a book from which we can take comfort. Not least is a host of examples of people rising to the occasion, setting aside differences and making the effort to come together (subject of course to social distancing) in a spirit of cooperation and mutual support. Fire, flood, plague is a unique snapshot of personal experiences in this year of wonders, drawing together many strands of thinking and feeling from a wide array of backgrounds and experiences — professional scientists, historians and journalists alongside activists, novelists, poets and all manner of other writers.

Peter Boyer, The Hobart Mercury
Fire Flood Plague, edited by Sophie Cunningham, is a collection of essays from many of Australia's sharpest writers, wrestling with climate catastrophe, politics and personal calamity during a year of environmental chaos. It's an expertly constructed document of an unforgettable year, with perspectives that remind us how best to live.

Louise Swinn, The Australian, Books of the Year
You might reasonably be forgiven for not wanting to look back on 2020 at all as you turn the corner into summer reading. Living it once through might be enough; who needs to relive it in book form. But when an anthology features such a rogue's gallery of Australia's finest writers – including but not limited to Lenore Taylor, Nyadol Nyuon, Christos Tsiolkas, Melissa Lucashenko, Kim Scott, Brenda Walker, Omar Sakr, Tim Flannery, Rebecca Giggs, George Megalogenis and others – you can be guaranteed something more meaningful and worthwhile than a mere recap of events. Taking in the very state of the planet and our likely future at one turn, then the nature of individual loss at the next, with fire, flood and plague as its theme, this essential collection edited by Sophie Cunningham is as insightful as it is urgent.

Michael Williams, Director, SWF
Fire Flood Plague unites poets, scientists, novelists, journalists, and historians, thus dismantling the barriers we often erect between science and humanities. Part of the delight of reading this collection lies in viewing the interconnectedness of systems we tend to regard as distinct: weather systems, political systems, ethical systems. Within individual essays, too, this collapsing of borders is evident: between past and future; intellect and imagination; reason and emotion.

Adele Dumont, Australian Book Review
Together these writers reveal associations that readers might otherwise not have seen. We are edging unsteadily out of the pandemic, into the rainstorm, into a world in which we might, finally, be able to hug with abandon. Fire, Flood, Plague, and others like it, have magnified voices that speak to the inequities of Australian society. Will we ignore those voices and sink back, stupefied by the cry of capitalism, 'Work sets you free?' Or will we listen to them, amplified by circumstance, by the oncoming shock of thunder and rush of rain?

Jessica White, Sydney Review of Books