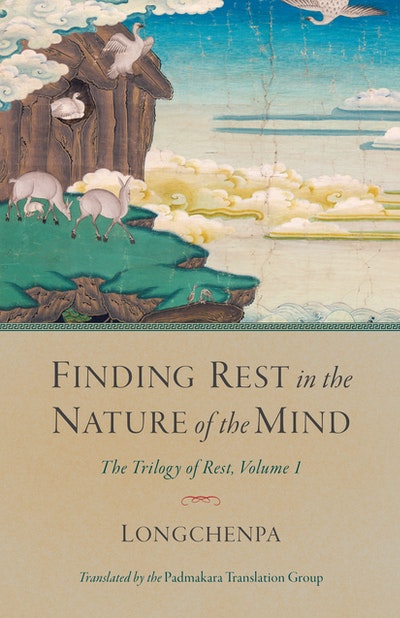 Published:

20 January 2021

ISBN:

9781611807523

Imprint:

Shambhala

Format:

Paperback

Pages:

384

RRP:

$59.99
Finding Rest in the Nature of the Mind
The Trilogy of Rest, Volume 1
---
---
Released in paperback for the first time, this brilliant translation of Longchenpa's famous work presents the entire scope of the Buddhist view combined with pith instructions for pointing out the nature of one's mind.
Longchen Rabjam's Finding Rest in the Nature of the Mind is a classic Buddhist manual for attaining true liberation through familiarizing ourselves with our most basic nature--our clear, pristine, and aware mind. Written in the fourteenth century, this text is the first part to Longchenpa's Trilogy of Rest, a work of the esoteric Tibetan Dzogchen tradition. This unique presentation of the Buddhist view and path combines the scholastic expository method of explanation with direct pith instructions designed for yogi practitioners.
This text systematically presents the view in thirteen chapters, outlining all that a practitioner must know in order to embark on the complete Buddhist path. Here we find fundamental instructions on the need to turn away from materialism, how to find a qualified guide, how to develop boundless compassion for all beings, tantra and its associated practices, calm abiding (samatha) and deep insight (vipasyana) meditation techniques, all culminating in the practice presented from the perspective of Dzogchen.
This first volume of the Trilogy of Rest is a comprehensive teaching on the view from the Tibetan Buddhist tradition, setting the foundation for the following two volumes: Finding Rest in Meditation, which focuses on meditation practice, and Finding Rest in Illusion, which focuses on post-meditation yogic conduct. The Padmakara Translation Group has provided us with a clear and fluid new translation of Finding Rest in the Nature of the Mind, which will serve as a genuine aid to study and meditation.
Published:

20 January 2021

ISBN:

9781611807523

Imprint:

Shambhala

Format:

Paperback

Pages:

384

RRP:

$59.99
Praise for Finding Rest in the Nature of the Mind
"Rest is what we all lack most. Even more agonizing is that we don't know how to do it; in fact, we don't even understand what it means to rest. Who but Longchenpa can and will make absolutely sure that we finally understand what rest is?" —Dzongsar Jamyang Khyentse Rinpoche   "In his stunningly poetic exposition, the Trilogy of Rest, Gyalwa Longchenpa illumines the great path to enlightenment with unsurpassable depth and detail. Volume 1 of the trilogy, Finding Rest in the Nature of the Mind, sets us upon that path, grounding us from our very first steps through to the profound—showing the most profound to be grounded in unshakable simplicity. Brilliantly clarifying the complexities we create to come to this realization, Longchenpa easily and clearly reveals the concordance of the journey's various stages. This new translation of one of the greatest classics of the Nyingma School is wonderfully accessible and a most welcome contribution filled with the rich biographical and historical details of Longchenpa's own journey. Reading this book, one cannot help but feel the ping of recognition that goes beyond words to the heart of direct experience." —Khandro Rinpoche   "This sacred volume embodies the entire Buddhist path—from how to inspire our wild mind towards the Dharma to how to fulfill the needs of all by awakening the nature of the mind, innate Buddhahood, as it is." —Tulku Thondup