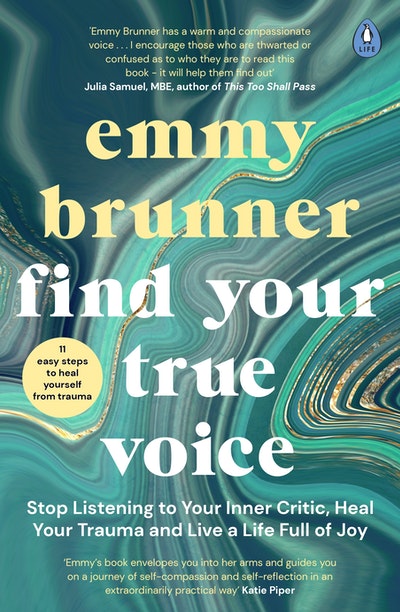 Published:

14 September 2021

ISBN:

9780241474532

Imprint:

Penguin Life

Format:

Trade Paperback

Pages:

224

RRP:

$32.99
Find Your True Voice
Stop Listening to Your Inner Critic, Heal Your Trauma and Live a Life Full of Joy
---
---
---
A practical guide for identifying, accepting and moving on from unresolved trauma.
We're all carrying around past trauma, even if we're not aware of it. Trained psychotherapist, Emmy Brunner, has the ultimate 11-step programme to help you identify and overcome your unresolved trauma to become the happiest version of yourself. She will help you to:
· Identify your own personal trauma and tackle your inner critical voice
· Confront and overcome fear, worry and anxiety and negative body image
· Discover self-acceptance and healthy coping strategies
· Manifest your future and discover your spiritual self
Using a combination of case studies, practical clinical advice from The Recover Clinic, and 11 simple recovery tools including meditation, vision boards, self-care tips, body-healing and future-self journaling, this book is guaranteed to help you take your first steps towards recovery. Whether you're struggling with depression, anxiety, an eating disorder, or low self-esteem, Emmy Brunner is here to guide you through the process of recovery.
Published:

14 September 2021

ISBN:

9780241474532

Imprint:

Penguin Life

Format:

Trade Paperback

Pages:

224

RRP:

$32.99
Praise for Find Your True Voice
Emmy Brunner has a warm and compassionate voice in gently accompanying the reader to turn towards themselves and find the injuries and wounds from the past that are holding them back in their life now. I encourage those who are thwarted or confused as to who they are to read this book - it will help them find out

Julia Samuel, MBE, Psychotherapist and author of Grief Works and This Too Shall Pass
Emmy's book envelopes you into her arms and guides you on a journey of self-compassion and self-reflection in an extraordinarily practical way

Katie Piper, Writer, activist and TV presenter
If you're feeling stuck in an unhelpful cycle and you want to find a way to get out of it, this is a thoughtful and clever book written by someone who has been through it themselves. Emmy's words could help you find the tools you already have in order to change your life for the better.

Sophie Ellis-Bextor, Critically acclaimed singer & songwriter
Emmy redefines trauma in a way that allows you to accept the things that have happened to you in your life, reflect on who they've made you become & guide you on how to unravel yourself from the throws of these traumas. She gently enables you to go on and live with vibrant possibility

Paloma Faith, Multi platinum singer & songwriter