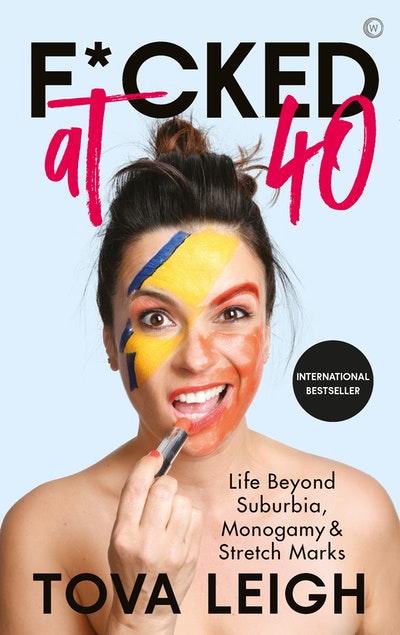 Published:

3 March 2020

ISBN:

9781786782694

Imprint:

Watkins

Format:

Hardback

Pages:

224

RRP:

$32.99
F*cked at 40
Life Beyond Suburbia, Monogamy and Stretch Marks
---
---
---
For every woman that has ever felt trapped. A funny, raw and empowering mid-life-crisis-with-a-difference, vlogger, mother, lover businesswoman and social media phenomenon Tova Leigh explores what the hell you are supposed to do when you find yourself living a life you don't remember signing up for.
"I was bored, angry, tired and sad. I felt all alone yet I had nothing to complain about. I had a good job, a husband who as far as I could tell wasn't shagging his assistant, three children who apart from being the occasional assholes were pretty good kids; a house, a dog and everything else we are told as little girls we should aspire to. But inside, I was growing restless. I was sick of having the same dull conversations about meal plans and kid-friendly holidays. I was frustrated with having the same married sex I'd been having for the past seven years, or not having any sex at all. I didn't want to be looked at as just a 'mom'. I wanted to be desired, to make someone's hair stand on end and go crazy for me. I didn't want to live by some label that didn't represent me. I looked at my messy SUV after my yoga class one morning and I wanted to vomit on it all. I panicked, thinking about how I am slowly approaching middle age and the menopause and I wondered how many years do I have left of being 'f**ckable' before everything starts going downhill?"
We have many sides to us, most of the time we think we must choose just one character and stick to it. But the truth is, we can be all of them without having to choose. I am finally able to show the world that I am a bit of an idiot who dances around her kitchen in her knickers and makes silly videos with her husband, as well as a responsible parent and a businesswoman who runs her own company.
When you find authenticity it's hard to go back. It's like opening a door to the truth and starting to breathe a new type of air. This discovery is what prompted me to write. It's my way of saying HERE I AM. I don't think we should be sorry for who we are. None of us.
Published:

3 March 2020

ISBN:

9781786782694

Imprint:

Watkins

Format:

Hardback

Pages:

224

RRP:

$32.99