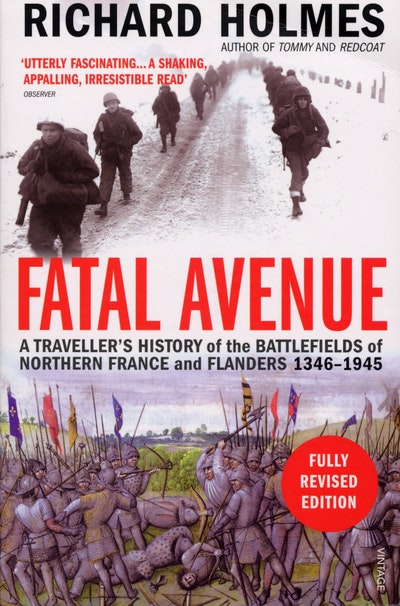 Published:

1 August 2008

ISBN:

9781844139385

Imprint:

Vintage

Format:

Paperback

Pages:

608

RRP:

$32.99
Fatal Avenue
A Traveller's History of the Battlefields of Northern France and Flanders 1346-1945
---
---
A unique work, combining military history and travel, studying the most fought-over area on earth.
De Gaulle called it a 'fatal avenue' - that broad sweep of low-lying country stretching north-east of Paris. Over the centuries, invading armies have swept back and forth over this bloody terrain, and the names of battles fought here read like a dictionary of military history - from Agincourt, Calais and Crécy to Verdun, Vimy and Ypres.
Fatal Avenue is both a history and a guide - a unique study of a region that has witnessed more bitter military conflict than any other area of its size on earth.
Published:

1 August 2008

ISBN:

9781844139385

Imprint:

Vintage

Format:

Paperback

Pages:

608

RRP:

$32.99
Enthralling information on everything from archery to fortification, and from strategy to ecology... Holmes presents each battle plan, its weapons, its fighting techniques, its architecture in the shape of forts, redoubts, trenches, its management, its results, and then takes the reader through the terrain as it exists today. He is economical with emotion, and rightly so. The bare statement of what happened and where it happened is enough to touch the heart... It could scarcely be bettered

Ronald Blythe
Exceedingly well written... triumphantly succeeds... Richard Holmes is equally sure-footed when dealing with the human element, writing with equal conviction about Joan of Arc, Malborough, Napoleon, Haig, Foch, Ludendorff, Montgomery, Eisenhower, and many others. His book is an outstanding recruit to the shelves of military history

Martin Fagge