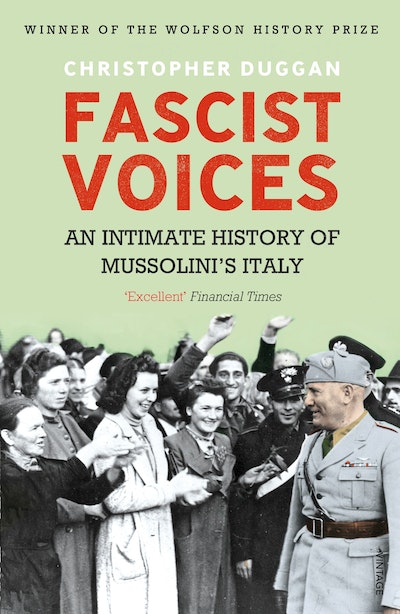 Published:

1 November 2012

ISBN:

9781409028956

Imprint:

Vintage Digital

Format:

EBook

Pages:

528
Fascist Voices
An Intimate History of Mussolini's Italy
---
---
---
An exceptionally original exploration into the ideology of Fascism from its conception through to its abiding legacy.
* Christopher Duggan's new history of Fascism and its hold over Italy throughout the last century is a seminal vision of how a political ideology came to shape a country.
* Duggan looks into how Fascism as a concept became embodied in the person of Mussolini, who came to occupy a semi-divine status, influencing religion and politics to an unprecedented degree, to the extent that his legacy still lingers in Europe today.
* A work of exceptional authority and originality which explores all manner of sources which have never been systematically examined, many of which have not been seen since their origin: letters, diaries, journals, secret police reports, newspapers, popular songs, films, radio programmes; as well as patterns of leisure, consumption, dress, food, language, art and sexual behaviour. Many of these sources draw on the personal testimonies of people who experienced Fascism and its influence as a daily reality.
* The principal objects of the book are to trace Fascism as an ideology from its conception through to its legacy, and to show why Fascism enjoyed so much support among the mass of the Italian population, examining the extraordinarily personal relationship that Mussolini had with millions of Italians and focusing on the religious dimensions of totalitarianism.
Published:

1 November 2012

ISBN:

9781409028956

Imprint:

Vintage Digital

Format:

EBook

Pages:

528
Praise for Fascist Voices
A fascinating exploration of the letters that 'ordinary' Italians who supported fascism wrote to Mussolini in the 1920s and 1930s

Glasgow Sunday Herald
This original, revealing and disturbing book provides a grassroots view of fascist Italy

Independent
Duggan's superbly researched book uncovers the nasty reality of [Mussolini's] regime and demonstrates that there was a disturbing symbiotic relationship between fascism and the Catholic Church

Mail on Sunday
In his magnificent new book, a pathbreaking study that everyone interested in Fascism, or in Italy past and present, should read, Christopher Duggan fills the gap by examining a wide range of diaries… This enables Duggan to deliver not merely a detailed account of popular attitudes towards the regime, but, far more, a general history of Fascism that for the first time treats it, not as a tyranny that allowed ordinary Italians no possibility of expressing themselves freely, nor as the brutal dictatorship of a capitalist class that reduced the great majority of the country's citizens to the status of victims, but as a regime rooted strongly in popular aspirations and desires.

Richard J. Evans, London Review of Books
Magnificent...a pathbreaking study that everyone interested in fascism, or in Italy past and present, should read

London Review of Books
Excellent new history of Italian Fascism

Ian Thomson, Financial Times
An elegantly written study that is the work of a historian at the height of his powers

History Today
Fluid and absorbing

Times Literary Supplement
Draws on a vast range of private letters and diaries to find out what ordinary people thought about the regime that ruled them between 1922 and 1945

Christopher Silvester, Daily Express
Draws on a vast range of private letters and diaries

Christopher Silvester, Scottish Sunday Express