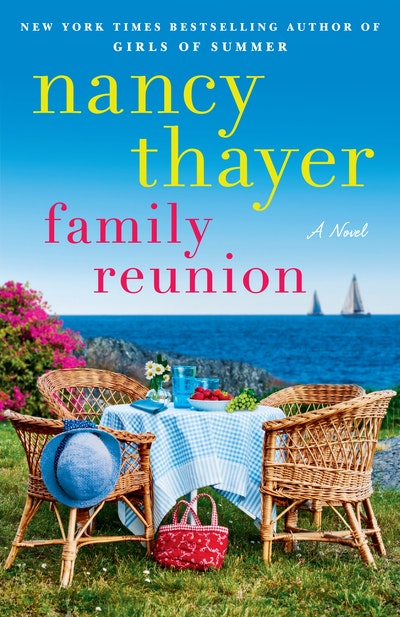 Published:

17 May 2022

ISBN:

9781524798802

Imprint:

Ballantine

Format:

Paperback

Pages:

304

RRP:

$29.99
Family Reunion
A Novel
---
---
A longtime Nantucket resident is trying to make the best of a lonely summer. Her spirited granddaughter is learning what she wants out of life. Unforgettable surprises await them both in this magical, multigenerational novel from New York Times bestselling author Nancy Thayer.
"Readers come to Nancy Thayer novels for the idyllic Nantucket beaches and lifestyle, but they stay for the characters."—Mary Alice Monroe
Eleanor Sunderland loves living on Nantucket in a gorgeous cliffside home that has been in her family for decades. Yet this year she can't help but feel a bit isolated, even as the island comes alive with summer travelers. Her best friend has skipped town, leaving Eleanor lonely and feeling nostalgic about her family's weekend trips to the island, made less frequently in the years since her husband's passing. Now her money-driven children complain and beg her to sell her beloved home for a steep payout. Hoping to kick the season off on a good note, Eleanor decides her seventieth birthday may be the perfect occasion for a much-needed reunion. 
Fresh from her college graduation, Eleanor's granddaughter, Ari, has just ended an engagement. She longs for a change of scenery and to escape from her parents' snobbish expectations. Taking advantage of her newfound freedom, she heads to Nantucket to clear her head before graduate school, moving in with her grandmother and taking a job at the local beach camp. As she watches Eleanor begin to form a bond with an old acquaintance, Ari herself becomes smitten with a friend's charming older brother. But just as grandmother and granddaughter fall into a carefree routine, a few shocking discoveries throw them off course. 
Eleanor and Ari learn to lean on each other through every new challenge they face in life and love, in this tale filled with Nancy Thayer's signature Nantucket magic. 
"Nancy Thayer's Family Reunion is a wonderful slice of life."—New York Times bestselling author Brenda Novak
Published:

17 May 2022

ISBN:

9781524798802

Imprint:

Ballantine

Format:

Paperback

Pages:

304

RRP:

$29.99
Praise for Family Reunion
PRAISE FOR NANCY THAYER Girls of Summer "Wholesome and hopelessly romantic."—Kirkus Reviews Surfside Sisters "Readers who appreciate a busy, uplifting tale of friendship and romance will enjoy spending time on Thayer's Nantucket."—Publishers Weekly "An engaging tale about how childhood expectations can be transformed on the journey through adulthood."—Kirkus Reviews A Nantucket Wedding "A delightful beach-town tale about family relationships and second chances."—Kirkus Reviews "Thayer's latest Nantucket confection does not disappoint. . . . A Nantucket Wedding is a Nancy Meyers film in book form and should be recommended accordingly."—Booklist Secrets in Summer "Infused with warmth and heartfelt, tender moments . . . Authentic, endearing characters will keep readers turning the pages."—RT Book Reviews "This breezy tale is at once nostalgic and hopeful . . . filled with sweet moments of unlikely female connections."—Kirkus Reviews