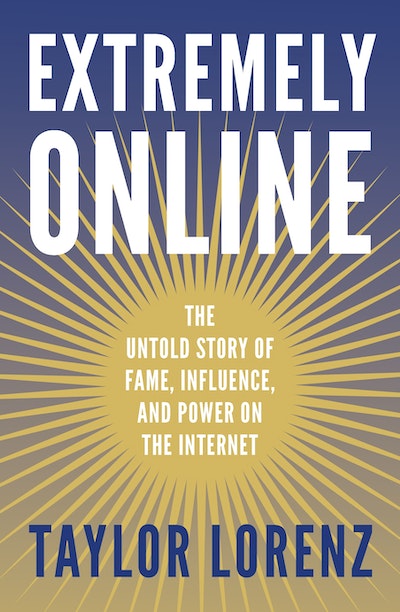 Published:

10 October 2023

ISBN:

9780753560792

Imprint:

WH Allen

Format:

Trade Paperback

Pages:

384

RRP:

$36.99
Extremely Online
The Untold Story of Fame, Influence and Power on the Internet
---
---
---
The first sweeping history of our life online, by TikTok's favourite tech journalist and cult cultural commentator, Taylor Lorenz.
'A terrific history of the online creator economy.' The New York Times
'This book is about a revolution. It has radically upended how we've understood and interacted with our world. It has demolished traditional barriers and empowered millions who were previously marginalized. It has created vast new sectors of our economy, while devastating legacy institutions. It is often dismissed by traditionalists as a vacant fad, when in fact it is the greatest and most disruptive change in modern capitalism.'
Acclaimed Washington Post reporter Taylor Lorenz presents a groundbreaking social history of the internet-revealing how online influence and the creators who amass it have reshaped our world, online and off.
For over a decade, Taylor Lorenz has been the authority on internet culture, documenting its far-reaching effects on all corners of our lives. Her reporting is serious yet entertaining and illuminates deep truths about ourselves and the lives we create online. In her debut book, Extremely Online, she reveals how online influence came to upend the world, demolishing traditional barriers and creating whole new sectors of the economy.
By tracing how the internet has changed what we want and how we go about getting it, Lorenz unearths how social platforms' power users radically altered our expectations of content, connection, purchasing, and power. Lorenz documents how moms who started blogging were among the first to monetize their personal brands online, how bored teens who began posting selfie videos reinvented fame as we know it, and how young creators on TikTok are leveraging opportunities to opt out of the traditional career pipeline. It's the real social history of the internet.
Emerging seemingly out of nowhere, these shifts in how we use the internet seem easy to dismiss as fads. However, these social and economic transformations created a digital dynamic so unappreciated and insurgent that it ultimately created new approaches to work, entertainment, fame, and ambition in the 21st century.
Extremely Online is the inside, untold story of what we have done to the internet, and what it has done to us.
Published:

10 October 2023

ISBN:

9780753560792

Imprint:

WH Allen

Format:

Trade Paperback

Pages:

384

RRP:

$36.99
Praise for Extremely Online
This astute debut from Lorenz, a Washington Post technology columnist, traces the tumultuous history of social media from the early 2000s to the present.... Lorenz accomplishes the difficult feat of wrangling a cogent narrative out of the unruliness of social media, while offering smart insight into how platforms affect their users.... It's a powerful assessment of how logging on has changed the world.

Publishers Weekly
A national news-breaking machine.

The Information
The Bob Woodward of the TikTok generation.

Town & Country's 'The New Creative Vanguard'
A peerless authority [...] Her name is synonymous with youth culture online. But this characterization amounts to a reductive view of her coverage of the ways in which people of all ages use Internet platforms today. [...] Readers scratch their heads in disbelief as Lorenz manages to unearth trend after trend that, despite seemingly infinite scrolling, millennials even 10 years her junior never stumble across.

Fortune's '40 Under 40' List
Taylor Lorenz was right all along.

The Spectator
The go-to voice on the internet.

Dazed
All the cool kids are pre-ordering Lorenz's book.

TechCrunch
An expansive look at how social platforms have radically altered literally every aspect of our lives.

Dazed
A terrific history of the online creator economy.

The New York Times
If you want to understand what is happening on the internet, you start by reading Taylor Lorenz.

Bloomberg
A vital look at the creator economy [...] a fascinating book.

NewScientist
A leading voice on social-media trends and internet culture.

The Economist
Lorenz contextualizes the internet as we live it.

Adweek's '2020 Influentials' List