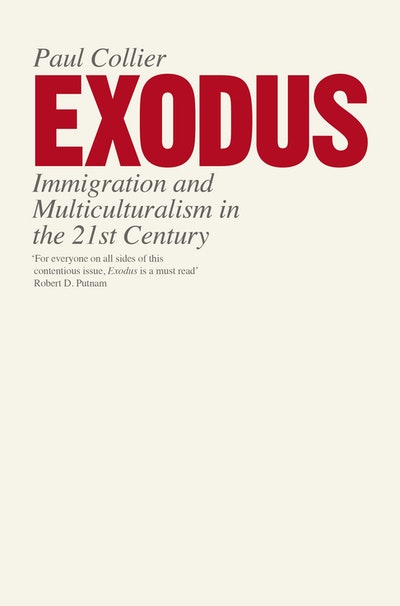 Published:

3 October 2013

ISBN:

9780141924137

Imprint:

Penguin eBooks

Format:

EBook

Pages:

288
Exodus
---
---
---
Mass international migration is a response to extreme global inequality, and immigration has a profound impact on the way we live. Yet our views - and those of our politicians - remain caught between two extremes: popular hostility to migrants, tinged by xenophobia and racism; and the view of business and liberal elites that 'open doors' are both economically and ethically imperative. With migration set to accelerate, few issues are so urgently in need of dispassionate analysis - and few are more incendiary.
Here, world-renowned economist Paul Collier seeks to defuse this explosive subject. Exodus looks at how people from the world's poorest societies struggle to migrate to the rich West: the effects on those left behind and on the host societies, and explores the impulses and thinking that inform Western immigration policy. Migration, he concludes, is a fact, and we urgently need to think clearly about its possibilities and challenges: it is not a question of whether migration is good or bad, but how much is best?
Paul Collier is Professor of Economics and Director of the Centre for the Study of African Economies at Oxford University and a former director of Development Research at the World Bank. He is the author of, among others, the award-winning The Bottom Billion and The Plundered Planet.
'Exodus is an important book and one I have been waiting to read for many years ... [it is] a work that is humane and hard-headed about one of the greatest issues of our times'
David Goodhart, Sunday Times
'Paul Collier is one of the world's most thoughtful economists. His books consistently illuminate and provoke. Exodus is no exception'
The Economist
'Tinged with poignancy ... a humane and sensible voice in a highly toxic debate'
Colin Kidd, Guardian
'Paul Collier's new book on international migration is magisterial. It offers a sophisticated, comprehensive, incisive, multidisciplinary, well-written balance sheet of the pros and cons of immigration for receiving societies, sending societies, and migrants themselves. For everyone on all sides of this contentious issue, Exodus is a "must-read"'
Robert D. Putnam, Professor of Public Policy, John F. Kennedy School of Government, Harvard University
[Praise for Paul Collier's The Plundered Planet]:
'A must-read' Sunday Times

'A path-breaking book' George Soros
'Paul Collier must be read if one is to begin to understand the most vital contemporary arguments' Bob Geldof
%%%Mass international migration is a response to extreme global inequality, and immigration has a profound impact on the way we live. Yet our views - and those of our politicians - remain caught between two extremes: popular hostility to migrants, tinged by xenophobia and racism; and the view of business and liberal elites that 'open doors' are both economically and ethically imperative. With migration set to accelerate, few issues are so urgently in need of dispassionate analysis - and few are more incendiary.
Here, world-renowned economist Paul Collier seeks to defuse this explosive subject. Exodus looks at how people from the world's poorest societies struggle to migrate to the rich West: the effects on those left behind and on the host societies, and explores the impulses and thinking that inform Western immigration policy. Migration, he concludes, is a fact, and we urgently need to think clearly about its possibilities and challenges: it is not a question of whether migration is good or bad, but how much is best?
Paul Collier is Professor of Economics and Director of the Centre for the Study of African Economies at Oxford University and a former director of Development Research at the World Bank. He is the author of, among others, th
Published:

3 October 2013

ISBN:

9780141924137

Imprint:

Penguin eBooks

Format:

EBook

Pages:

288