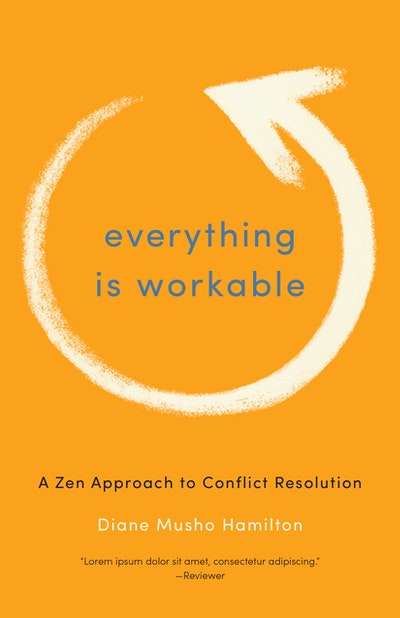 Published:

2 December 2013

ISBN:

9781611800678

Imprint:

Shambhala

Format:

Trade Paperback

Pages:

256

RRP:

$27.99
Everything Is Workable
---
---
Using mindfulness to work with and resolve the inevitable interpersonal conflicts that arise in all areas of life.
Everything Is Workable gives readers the tools they need for dynamic, vital, and effective relationships, both personal and professional. Diane Musho Hamilton draws on her years of experience as a professional mediator, Zen practitioner, and student of Ken Wilber's Integral Philosophy to present a spiritual approach to conflict resolution, providing teachings along with practices and exercises that can be applied to any sort of relationship in which conflict is a factor.
Few people would say they like conflict. Most of us try like heck to avoid it. If we take up meditation practice, we often expect that to make conflict go away. But . . . surprise! It never does. We still disagree with each other, argue, get hurt, say things we didn't mean to say. It's at the very least inconvenient. It's often also destructive. We're stuck with conflict as long as we're human beings with jobs, relationships, or dry cleaning to be picked up.
Meditation practice enables us to touch the inner source of clarity, understanding, compassion, and peace--yet the equanimity that we cultivate on the cushion does not always translate into skillfulness in the way we handle conflict in our personal lives. Interpersonal conflict ends up being the most difficult and painful part of our path. Though meditation is incomparably helpful, it doesn't make the sticky interpersonal issues go away. Conflict resolution skills are needed. Diane Musho Hamilton suggests that we make conflict resolution a valued part of our practice.
Published:

2 December 2013

ISBN:

9781611800678

Imprint:

Shambhala

Format:

Trade Paperback

Pages:

256

RRP:

$27.99