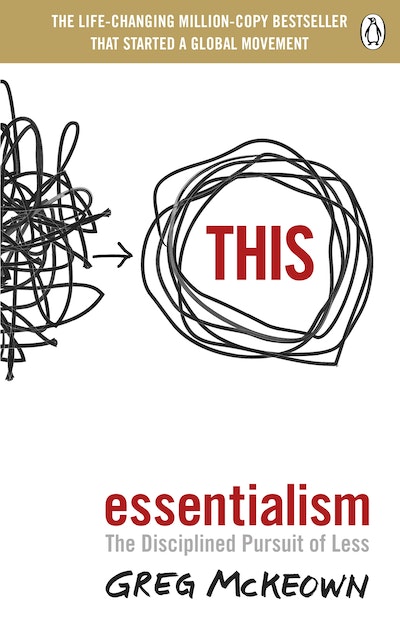 Published:

19 January 2021

ISBN:

9780753558690

Imprint:

Virgin Books

Format:

Paperback

Pages:

288

RRP:

$24.99
Essentialism
The Disciplined Pursuit of Less
---
---
---
Eliminate the nonessential in order to do something truly great
The life-changing international bestseller that started a global movement - now updated with the new 21-Day Essentialism Challenge and an exclusive excerpt from EFFORTLESS
Have you ever found yourself struggling with information overload?
Have you ever felt both overworked and underutilised?
Do you ever feel busy but not productive?
If you answered yes to any of these, the way out is to become an Essentialist.
In Essentialism, Greg McKeown, CEO of a Leadership and Strategy agency in Silicon Valley who has run courses at Apple, Google and Facebook, shows you how to achieve what he calls the disciplined pursuit of less. Being an Essentialist is about a disciplined way of thinking. It means challenging the core assumption of 'We can have it all' and 'I have to do everything' and replacing it with the pursuit of 'the right thing, in the right way, at the right time'.
By applying a more selective criteria for what is essential, the pursuit of less allows us to regain control of our own choices so we can channel our time, energy and effort into making the highest possible contribution toward the goals and activities that matter.
Using the experience and insight of working with the leaders of the most innovative companies and organisations in the world, McKeown shows you how to put Essentialism into practice in your own life, so you too can achieve something great.
Published:

19 January 2021

ISBN:

9780753558690

Imprint:

Virgin Books

Format:

Paperback

Pages:

288

RRP:

$24.99
Do you feel it, too? That relentless pressure to sample all the good things in life? To do all the 'right' things? The reality is, you don't make progress that way. Instead, you're in danger of spreading your efforts so thin that you make no impact at all. Greg McKeown believes the answer lies in paring life down to its essentials. He can't tell you what's essential to every life, but he can help you find the meaning in yours.

Daniel H. Pink, author of TO SELL IS HUMAN and DRIVE
Entrepreneurs succeed when they say "yes" to the right project, at the right time, in the right way. To accomplish this, they have to be good at saying "no" to all their other ideas. Essentialism offers concise and eloquent advice on how to determine what you care about most, and how to apply your energies in ways that ultimately bring you the greatest rewards

Reid Hoffman, co-founder/chairman of LinkedIn and co-author of the #1 NYT bestseller THE START-UP OF YOU
Essentialism holds the keys to solving one of the great puzzles of life: how can we do less but accomplish more? A timely, essential read for anyone who feels overcommitted, overloaded, or overworked-in other words, everyone. It has already changed the way that I think about my own priorities, and if more leaders embraced this philosophy, our jobs and our lives would be less stressful and more productive. So drop what you're doing and read it.

Adam Grant, Wharton professor and bestselling author of GIVE AND TAKE
As a self-proclaimed "maximalist" who always wants to do it all, this book challenged me and improved my life. If you want to work better, not just less, you should read it too.

Chris Guillebeau, NYT bestselling author of THE $100 STARTUP
Great design takes us beyond the complex, the unnecessary and confusing, to the simple, clear and meaningful. This is as true for the design of a life as it is for the design of a product. With Essentialism, Greg McKeown gives us the invaluable guidebook for just such a project.

Tim Brown, CEO of IDEO
Greg McKeown's excellent new book is a much-needed antidote to the stress, burnout and compulsion to "do everything," that infects us all. It is an essential read for anyone who wants to regain control of their health, wellbeing, and happiness

Arianna Huffington
Incredibly helpful . one of the few books that I revisit on a regular basis

Tim Ferriss
Article