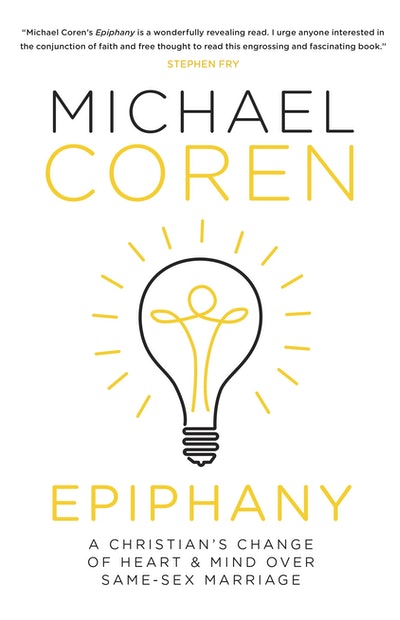 Published:

15 May 2016

ISBN:

9780771024115

Imprint:

McClelland & Stewart

Format:

Hardback

Pages:

240

RRP:

$42.99
Epiphany
---
---
From the posterboy of Catholic conservatism, a major change of heart and soul on one of the Church's most controversial and intractable stances.
"This past February, a conservative Roman Catholic blog, Contra|Diction, gave me perhaps my best headline ever: 'Michael Coren Complicit in Destruction of Souls Who Practice Homosexuality, Pt 1' (I'm still waiting for part two). It was one of countless posts, tweets, and articles that have condemned me for coming out in favour of same-sex marriage. I've also been fired from columns that I wrote for years, been banned from various Catholic TV and radio stations, had speeches cancelled, and been accused of cheating on my wife. My children have been called gay, and I have been compared to a child molester and a murderer. These are new experiences for me. Until last year, I was considered something of a champion of social conservatism in Canada and was well known among politically active Christians. I hosted a nightly show on Crossroads Television for twelve years, was a syndicated Sun columnist, and wrote briskly selling books with such titles as Why Catholics Are Right. Today, I am working away at a new book, Epiphany: Changing Heart and Mind on Same-Sex Marriage. How and why did it go so terribly wrong?" --Michael Coren
What went "terribly wrong" is that Michael Coren had a profound spiritual and personal change of heart. Epiphany is about how and why that happened; the reaction from both sides of the fence; and how the Christian doctrine, when studied closely and without bias, heartily supports Michael's findings. As a middle-aged, very white, very straight, very Christian man, he was obliged, first reluctantly and then eagerly, to explore the complex dynamic between faith and homosexuality and to work out a new narrative. The crux of that narrative: God is love.
Honest, brave, and rigorous in its scholarship, Epiphany is a groundbreaking book on one of society's most pressing issues.
Published:

15 May 2016

ISBN:

9780771024115

Imprint:

McClelland & Stewart

Format:

Hardback

Pages:

240

RRP:

$42.99