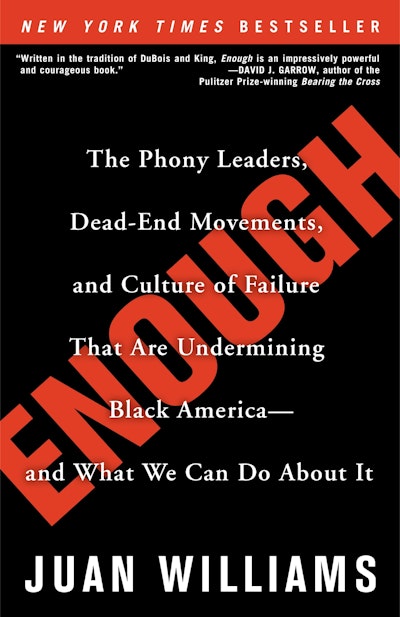 Published:

15 October 2007

ISBN:

9780307338242

Imprint:

Crown

Format:

Trade Paperback

Pages:

256

RRP:

$21.99
Enough
The Phony Leaders, Dead-End Movements, and Culture of Failure That Are Undermining Black America--and What We Can Do About It
---
---
NEW YORK TIMES BESTSELLER • An impassioned clarion call to return to the traditional values that served generations of civil rights heroes in order to overcome the obstacles faced by black Americans today
"Written in the tradition of DuBois and King, Enough is an impressively powerful and courageous book."—David J. Garrow, Pulitzer Prize–winning author of Bearing the Cross
Half a century after brave Americans took to the streets to raise the bar of opportunity for all races, Juan Williams writes that too many black Americans are in crisis—caught in a twisted hip-hop culture, dropping out of school, ending up in jail, having babies when they are not ready to be parents, and falling to the bottom in twenty-first-century global economic competition.
Williams makes the case that while there is still racism, it is way past time for black Americans to open their eyes to the "culture of failure" that exists within their community. He raises the banner of proud black traditional values—self-help, strong families, and belief in God—that sustained black people through generations of oppression and flowered in the exhilarating promise of the modern civil rights movement. Williams asks what happened to keeping our eyes on the prize by proving the case for equality with black excellence and achievement.
Reinforcing his incisive observations with solid research and alarming statistical data, Williams offers a concrete plan for overcoming the obstacles that now stand in the way of African Americans' full participation in the nation's freedom and prosperity. Certain to be widely discussed and vehemently debated, Enough is a bold, perceptive, solution-based look at African American life, culture, and politics today.
Published:

15 October 2007

ISBN:

9780307338242

Imprint:

Crown

Format:

Trade Paperback

Pages:

256

RRP:

$21.99