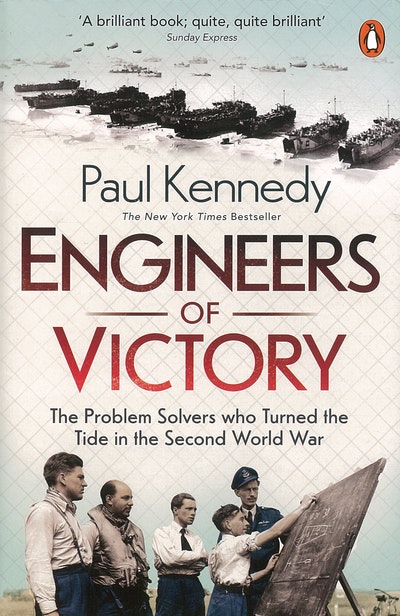 Published:

27 August 2014

ISBN:

9780141036090

Imprint:

Penguin Press

Format:

Paperback

Pages:

464

RRP:

$24.99
Engineers Of Victory
The Problem Solvers Who Turned The Tide In The Second World War
---
---
In Engineers of Victory Paul Kennedy reveals the role of the problem-solvers and middle-men who made it happen - such as Major-General Perry Hobart, who invented the 'funny tanks' which flattened the D-Day beaches; or Captain 'Johnny' Walker, who worked out how to sink U-boats with a 'creeping barrage'

From Paul Kennedy, author of The Rise and Fall of the Great Powers, one of the most acclaimed history books of recent decades, Engineers of Victory is a new account of how the tide was turned against the Nazis by the Allies in the Second World War.
In January 1943 Churchill and Roosevelt met in Casablanca to review the Allies' war aims. To achieve unconditional surrender they had to overcome some formidable hurdles, from winning air command to 'hopping' across the Pacific islands. Eighteen months later, they had done what seemed impossible.
Here Paul Kennedy reveals the role of the problem-solvers and middle-men who made it happen - like Major-General Perry Hobart, who invented the 'funny tanks' which flattened the D-Day beaches; or Captain 'Johnny' Walker, who worked out how to sink U-boats with a 'creeping barrage'. This book shows the conflict in an entirely new light.
'Consistently original ... An important contribution to our understanding' Michael Beschloss, The New York Times Book Review
'[Kennedy's] refreshing study ... asks the right questions, disposes of clichés and gives a rich account of neglected topics' David Edgerton, Financial Times
'Colourfully and convincingly illustrates the ingenuity and persistence of a few people who made all the difference' Washington Post
PAUL KENNEDY is one of the world's best-selling and most influential historians. He is the author or editor of nineteen books, including The Rise and Fall of the Great Powers, which has been translated into over twenty languages, Preparing for the Twenty-First Century, The Parliament of Man and the now classic Rise and Fall of British Naval Mastery.

Published:

27 August 2014

ISBN:

9780141036090

Imprint:

Penguin Press

Format:

Paperback

Pages:

464

RRP:

$24.99