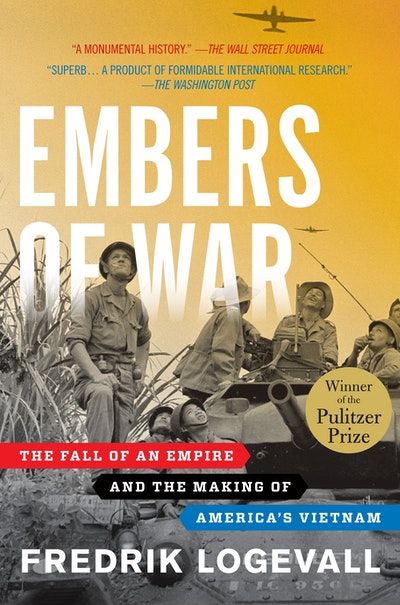 Published:

15 August 2013

ISBN:

9780375756474

Imprint:

Random House US Group

Format:

Paperback

Pages:

864

RRP:

$36.00
Embers Of War
The Fall of an Empire and the Making of America's Vietnam
---
---
---
NAMED ONE OF THE BEST BOOKS OF THE YEAR BY
The Washington Post • The Christian Science Monitor • The Globe and Mail
LONGLISTED FOR THE LIONEL GELBER PRIZE
The struggle for Vietnam occupies a central place in the history of the twentieth century. Fought over a period of three decades, the conflict drew in all the world's powers and saw two of them—first France, then the United States—attempt to subdue the revolutionary Vietnamese forces. For France, the defeat marked the effective end of her colonial empire, while for America the war left a gaping wound in the body politic that remains open to this day.
 
How did it happen? Tapping into newly accessible diplomatic archives in several nations and making full use of the published literature, distinguished scholar Fredrik Logevall traces the path that led two Western nations to lose their way in Vietnam. Embers of War opens in 1919 at the Versailles Peace Conference, where a young Ho Chi Minh tries to deliver a petition for Vietnamese independence to President Woodrow Wilson. It concludes in 1959, with a Viet Cong ambush on an outpost outside Saigon and the deaths of two American officers whose names would be the first to be carved into the black granite of the Vietnam Veterans Memorial. In between come years of political, military, and diplomatic maneuvering and miscalculation, as leaders on all sides embark on a series of stumbles that makes an eminently avoidable struggle a bloody and interminable reality.
 
Logevall takes us inside the councils of war—and gives us a seat at the conference tables where peace talks founder. He brings to life the bloodiest battles of France's final years in Indochina—and shows how from an early point, a succession of American leaders made disastrous policy choices that put America on its own collision course with history: Harry Truman's fateful decision to reverse Franklin Delano Roosevelt's policy and acknowledge France's right to return to Indochina after World War II; Dwight Eisenhower's strenuous efforts to keep Paris in the fight and his escalation of U.S. involvement in the aftermath of the humiliating French defeat at Dien Bien Phu; and the curious turnaround in Senator John F. Kennedy's thinking that would lead him as president to expand that commitment, despite his publicly stated misgivings about Western intervention in Southeast Asia.
 
An epic story of wasted opportunities and tragic miscalculations, featuring an extraordinary cast of larger-than-life characters, Embers of War delves deep into the historical record to provide hard answers to the unanswered questions surrounding the demise of one Western power in Vietnam and the arrival of another. This book will become the definitive chronicle of the struggle's origins for years to come.
Praise for Embers of War
 
"A monumental history . . . a widely researched and eloquently written account of how the U.S. came to be involved in Vietnam . . . certainly the most comprehensive review of this period to date."—The Wall Street Journal
 
"Superb . . . a product of formidable international research."—The Washington Post
 
"An essential work for those seeking to understand the worst foreign-policy adventure in American history . . . Even though readers know how the story ends—as with The Iliad—they will be as riveted by the tale as if they were hearing it for the first time."—The Christian Science Monitor
 
"Lucid and vivid . . . [a] definitive history."—San Francisco Chronicle
"Magisterial."—Foreign Affairs

From the Hardcover edition.
Published:

15 August 2013

ISBN:

9780375756474

Imprint:

Random House US Group

Format:

Paperback

Pages:

864

RRP:

$36.00
"Fredrik Logevall's excellent book Choosing War (1999) chronicled the American escalation of the Vietnam War in the early 1960s. With Embers of War, he has written an even more impressive book about the French conflict in Vietnam and the beginning of the American one. . . . It is the most comprehensive history of that time. Logevall, a professor of history at Cornell University, has drawn from many years of previous scholarship as well as his own. And he has produced a powerful portrait of the terrible and futile French war from which Americans learned little as they moved toward their own engagement in Vietnam."—Alan Brinkley, The New York Times Book Review *Editor's Choice*

"Superb . . . penetrating . . . Embers of War is a product of formidable international research. It is lucidly and comprehensively composed. And it leverages a consistently potent analytical perspective. . . . Outstanding."—Gordon Goldstein, The Washington Post
 
"A monumental history . . . a widely researched and eloquently written account of how the U.S. came to be involved in Vietnam . . . certainly the most comprehensive review of this period to date."—Wall Street Journal

"The most comprehensive account available of the French Vietnamese war, America's involvement, and the beginning of the US-directed struggle. . . . [Embers of War tells] the deeply immoral story of the Vietnam wars convincingly and more fully than any others. Since many of the others, some written over fifty years ago, are excellent, this is a considerable achievement."—Jonathan Mirsky, New York Review of Books

"Magisterial."—Foreign Affairs

"The definitive history of the critical formative period from 1940 to 1960 [in Vietnam]. . . . lucid and vivid . . . As American involvement escalated, Bernard Fall, the highly respected scholar-journalist of Vietnam's wars, wrote that Americans were 'dreaming different dreams than the French but walking in the same footsteps.' Fredrik Logevall brilliantly explains that legacy."—Gary R. Hess, San Francisco Chronicle

"Embers of War is simply an essential work for those seeking to understand the worst foreign-policy adventure in American history. . . . Even though readers know how the story ends—as with "The Iliad"—they will be as riveted by the tale as if they were hearing it for the first time."—The Christian Science Monitor

"A remarkable new history . . . Logevall skilfully explains everything that led up to Vietnam's fatal partition in 1954 . . . [and] peppers the grand sweep of his book with vignettes of remarkable characters, wise and foolish."—The Economist

"Fascinating, beautifully-written . . . Logevall's account provides much new detail and important new insights. . . . It is impossible not to read the book without being struck by contemporary parallels."—Foreign Policy

"[A] brilliant history of how the French colonial war to hang onto its colonies in Indochina became what the Vietnamese now call 'the American war.'"—Charles Pierce, Esquire

"Huge and engrossing . . . [Logevall] writes with an ambitious sweep and an instinct for pertinent detail. . . . If Logevall's earlier work stood up well in a crowded field, Embers of War stands alone. . . . What if [Embers] had been mandatory reading for Kennedy and his policy makers?"—The National Interest
 
"Very much worth the read, both for the story and the writing. . . . Embers of War has the balance and heft to hold hindsight's swift verdicts at bay. . . An excellent, valuable book."—The Dallas Morning News
 
"An encompassing, lucid account of the 40-year arc in which America's Southeast Asian adventure became inevitable . . . Logevall's prose is clean, his logic relentless, his tone unsparing, his vision broad and deep, his empathy expansive."—Vietnam Magazine

"How easy it is to forget how it all started. The events pile on one another, new battles begin each day, demands for decisions encroach—and soon enough everything is incremental. Cornell historian Fredrik Logevall steps back from the edge and—parting from most Vietnam War studies that focus on the Kennedy and Johnson administrations—reaches back to World War II to give a fresh picture of America imagining itself into the Vietnam War. . . . [Embers of War puts] flesh on barebones assertions that occupy a few sentences or paragraphs in many Vietnam accounts. . . . startling."—The VVA Veteran
 
"A superbly written and well-argued reinterpretation of our tragic experience in Vietnam."—Booklist
 
"[Logevall] masterfully presents the war's roots in the U.S. reaction to the French colonial experience."—Publishers Weekly (starred review)
 
"Fredrik Logevall has gleaned from American, French, and Vietnamese sources a splendid account of France's nine-year war in Indochina and the story of how the American statesmen of the period allowed this country to be drawn into the quagmire."—Neil Sheehan, author of A Bright Shining Lie, winner of the Pulitzer Prize and the National Book Award
 
"Fredrik Logevall is a wonderful writer and historian. In his new book on the origins of the American war in Vietnam, he gives a fascinating and dramatic account of the French war and its aftermath, from the perspectives of the French, the Vietnamese, and the Americans. Using previously untapped sources and a deep knowledge of diplomatic history, Logevall shows to devastating effect how America found itself on the road to Vietnam."—Frances FitzGerald, author of Fire in the Lake, winner of the Pulitzer Prize and the National Book Award
 
"In a world full of nascent, potentially protracted wars, Fredrik Logevall's Embers of War is manifestly an important book, illuminating the long, small-step path we followed into the quagmire of Vietnam. But I was also struck by the quality of Logevall's writing. He has the eye of a novelist, the cadence of a splendid prose stylist, and a filmmaker's instinct for story. Embers of War is not just an important book of history, it is an utterly compelling read."—Robert Olen Butler, author of A Good Scent from a Strange Mountain, winner of the Pulitzer Prize
 
"Embers of War is a truly monumental achievement. With elegant prose, deft portraits of the many fascinating characters, and remarkable sensitivity to the aspirations and strategies of the various nations involved, Logevall skillfully guides us through the complexities of the First Indochina War and demonstrates how that conflict laid the basis for America's war in Vietnam."—George C. Herring, author of America's Longest War: The United States and Vietnam, 1950-1975

"In this vividly written, richly textured history, Fredrik Logevall demolishes the fiction, too long indulged by too many Americans, that the Vietnam War appeared out of nowhere to besmirch the 1960s. Here we have the full backstory—the uneasy collaboration between France and the United States that paved the way for epic tragedy. Embers of War is a magisterial achievement."—Andrew J. Bacevich, author of Washington Rules: America's Path to Permanent War and Professor of International Relations and History, Boston University 
 
"For too long, Americans have debated the Vietnam War as though it started in the 1960s. As Fredrik Logevall masterfully demonstrates in Embers of War, the American imbroglio has deep roots in the 1940s and 1950s. This is a deeply researched, elegantly written account that will instantly become the standard book on a poorly understood and decisively important event in world history."—Mark Lawrence, author of The Vietnam War: A Concise International History, and Associate Professor of History and Senior Fellow at the Robert S. Strauss Center for International Security and Law at The University of Texas at Austin
 
"Fredrik Logevall gives us an extraordinary account of how Americans, overestimating their own power and underestimating the historical morass they were entering, committed themselves to a twenty-year war against the Vietnamese. Beautifully told and exhaustively researched in French and Vietnamese as well as U.S. sources, Twilight War is now the standard for understanding how the United States became immersed in Vietnam while appearing to a great many Vietnamese themselves as 'just another big, white Western power, there to impose her will on them, to tell them how to conduct their affairs.' More than a half century later, and a decade after 9/11, it remains true that the more things change, the more they remain the same—at least to those ignorant of the story Logevall tells."—Walter LaFeber, author of The American Age: The U.S. at Home and Abroad, 1750 to the Present and Andrew and James Tisch University Professor Emeritus, Cornell University
 
"It is the most important question of America's past half century: Why did we go to war in Vietnam? The answers are all here in Fredrik Logevall's magnificent, panoramic account of the long-term origins of our doomed conflict in Indochina. By going back to the early years, from World War II through the 1950s, Logevall shows that Americans were deeply engaged in France's 'twilight war' from its very beginning, but failed—tragically—to learn any lessons from France's miserable defeat. Instead, hubris, naiveté, idealism, and expansive global ambitions led American leaders to believe they could succeed where others had failed. This sensitive, impeccably researched book is a true masterwork, written by one of our most imaginative and talented historians. And it is a must-read for anyone interested in America's continuing penchant for overseas interventions."—William I. Hitchcock, author of The Bitter Road to Freedom and professor of history, University of Virginia
 
"In the rush to get to 'America's war' in Vietnam, scholars have given remarkably short shrift to the first one. In this path-breaking account of the making of America's Vietnam, Fredrik Logevall places the Indochina War, the crumbling of the French Empire, and American intervention in Vietnam at the center of his analysis. It's a revolutionary shift in perspective and periodization, based on impressive archival research, the careful mining of untapped memoirs, and an unparalleled mastery of the latest scholarship in the field. It is also a highly readable account of one of the most important yet poorly understood conflicts of the twentieth century. For those who want to understand this first war and how and why the United States became involved in it, there is no better place to start than with Logevall's magnificent Embers of War."—Christopher Goscha, professor of international relations, Université du Québec à Montréal


From the Hardcover edition.