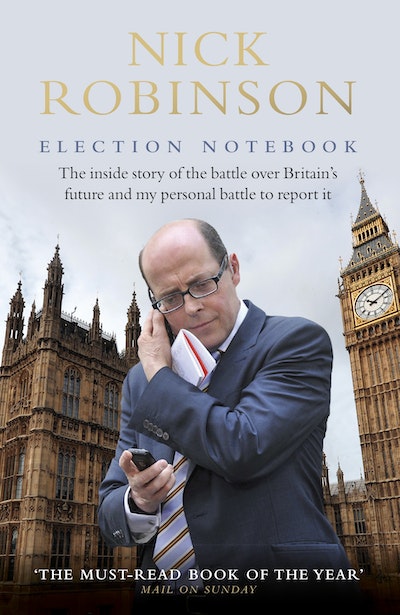 Published:

11 June 2015

ISBN:

9781473525344

Imprint:

Transworld Digital

Format:

EBook

Pages:

400
Election Notebook
The Inside Story Of The Battle Over Britain's Future And My Personal Battle To Report It
---
---
---
2015's General Election and its profound implications for Britain's political future.
Just after ten o'clock on Thursday, 7 May 2015 Nick Robinson stared down the lens of camera 5 in the BBC's Election Night Studio to explain to millions the significance of an exit poll that shocked the country and heralded an earthquake in British politics.
That moment was a personal milestone for the BBC's Political Editor, who had been discharged from hospital just hours earlier following weeks of treatment for cancer and the loss of his voice after surgery.
In the year leading up to that night Nick kept a journal recording the events he reported on day after day to millions of viewers and listeners, and which he continued to monitor, often from his hospital bed as he fought to get fit in time for election night. This is Nick's behind-the-scenes account of his encounters with David Cameron, who many wrote off before the shock victory he called his 'sweetest'; Ed Miliband, who turned abuse & ridicule into respect before leading Labour to its worst defeat in a generation; Nick Clegg, who led his party into power and then to humiliation and near oblivion; Nigel Farage, who rose so fast and then fell at the final hurdle; Alex Salmond, whose public clash with Nick led to thousands protesting outside the BBC's Scottish HQ, and Nicola Sturgeon, whose stunning success as SNP leader has put Scottish independence back on the map.
The result is an extraordinary narrative, characterized by Nick Robinson's trademark insight, analysis and backstage gossip, of an adrenaline-fuelled year which culminated in a captivating election that transformed Britain's political landscape.
Published:

11 June 2015

ISBN:

9781473525344

Imprint:

Transworld Digital

Format:

EBook

Pages:

400
Praise for Election Notebook
A candid, moving and gripping psychological rollercoaster of hopes and fears ... peppers with incisive observations ... Don't buy this book because you feel sorry for Nick Robinson. He wouldn't want that. Buy it because it's a cracking read.

The Observer
Mischievous. Moving. Marvellously indiscreet ... the Must-Read Book of the Year

Mail on Sunday
Mischievous. Moving. Marvellously indiscreet ... the Must-Read Book of the Year

Mail on Sunday
Funny, crackling and moving

Robert Peston, BBC Economics Editor
Funny, crackling and moving

Robert Peston, BBC Economics Editor
Terrific stuff in Nick Robinson's instant memoir of recent history

John Rentoul, Independent
Terrific stuff in Nick Robinson's instant memoir of recent history

John Rentoul, Independent
Brilliant, brave and honest

Jane Martinson, Head of Media at the Guardian
Brilliant, brave and honest

Jane Martinson, Head of Media at the Guardian
A terrific book, literally unputdownable. It merges two genres - personal and political - without a seam in sight and kept me engrossed on every page. One of the best political books I've ever read.

Matthew d'Ancona
A terrific book, literally unputdownable. It merges two genres - personal and political - without a seam in sight and kept me engrossed on every page. One of the best political books I've ever read.

Matthew d'Ancona
[Nick] manages to convey the excitement of a moving political story while keeping a sense of perspective ... His account of battling with illness while trying to report on a general election is extremely moving.

Sunday Times
[Nick] manages to convey the excitement of a moving political story while keeping a sense of perspective ... His account of battling with illness while trying to report on a general election is extremely moving.

Sunday Times
A candid, moving and gripping psychological rollercoaster of hopes and fears ... peppers with incisive observations ... Don't buy this book because you feel sorry for Nick Robinson. He wouldn't want that. Buy it because it's a cracking read.

The Observer