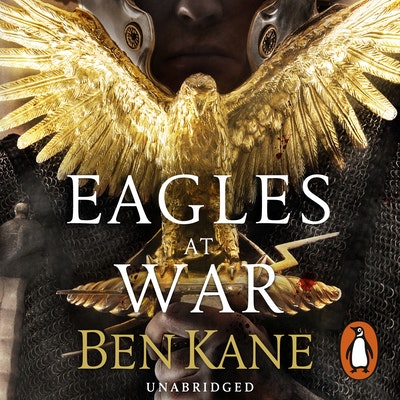 Published:

23 April 2015

ISBN:

9781473518070

Imprint:

Cornerstone Digital

Format:

Audio Download

Length:

13 hr 59 min

Narrator:

David Rintoul

RRP:

$24.99
Eagles at War
---
---
---
From 'the rising star of historical fiction' (Wilbur Smith), the first in a new gripping three-part series, based on real historical events. Three Roman legions massacred. Three Imperial Eagles lost. One man vies for revenge.
BASED ON REAL HISTORICAL EVENTS
A TIME FOR VENGEANCEAD 9, German frontier: Close to the Rhine, a Roman centurion, Lucius Tullus, prepares to take his soldiers on patrol. On the opposite side of the river, German tribes are resentful of the harsh taxes about to be imposed upon them. Suspicious that there might be unrest, Tullus knows that his men's survival will be determined not just by their training and discipline, but by his leadership.
A TIME FOR WARWhat neither Tullus nor his commander, Governor Varus, realise is that ranged against them is the charismatic chieftain and trusted ally of Rome, Arminius, who has long been plotting to drive the Romans from the tribal lands east of the Rhine.
A TIME TO DIEAs Varus' legions prepare to leave their summer encampment, thousands of warriors - directed by Arminius - are massing nearby. Eager to throw off the Roman yoke, the tribesmen prepare a deadly ambush. Only the gods can save the Romans now...
Published:

23 April 2015

ISBN:

9781473518070

Imprint:

Cornerstone Digital

Format:

Audio Download

Length:

13 hr 59 min

Narrator:

David Rintoul

RRP:

$24.99
Who is the rising star of historical fiction? I say Ben Kane

Wilbur Smith
Gritty, passionate and violent ... a thrilling page-turner.

Steven Pressfield
You feel the ground tremble beneath the phalanxes, hear the battle cries of the legions, smell the carnage of war.

Giles Christian
A compulsive, relentless story, vividly recounted in muscular prose

Daily Telegraph
Highly recommended

Daily Mail
Gripping, brutal and brilliant

Giles Kristian
Ben Kane's ability to illustrate the major turning points in Roman history at the level where the blood gets shed is second to none, and in Eagles at War his ability to put believable characters into the heart of the battle is stronger than ever.

Tony Riches
Ben Kane lifts the genre into a space all his own where honour and duty, love and hate, legions and tribes clash in spectacular, bloody, heart-breaking glory... I loved this book. It dragged me in on the first page, held me spellbound to the end and I can't wait for the next one. More!

Manda Scott