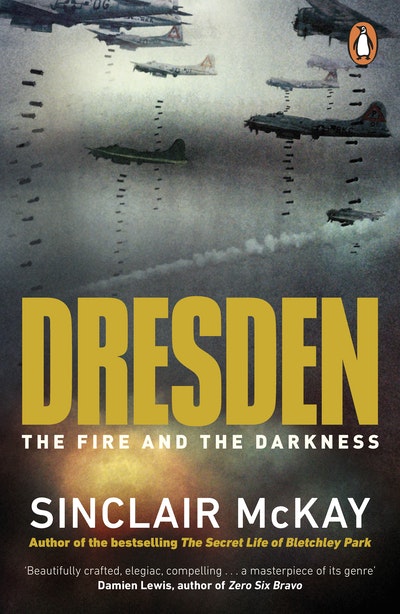 Published:

28 October 2020

ISBN:

9780241986011

Imprint:

Penguin General UK

Format:

Paperback

Pages:

400

RRP:

$22.99
Dresden
The Fire and the Darkness
---
---
---
The bestselling historian's gripping account of the Allied bombing of Dresden for the 75th anniversary
In February 1945 the Allies obliterated Dresden, the 'Florence of the Elbe'. Explosive bombs weighing over 1,000 lbs fell every seven and a half seconds and an estimated 25,000 people were killed. Was Dresden a legitimate military target or was the bombing a last act of atavistic mass murder in a war already won?
From the history of the city to the attack itself, conveyed in a minute-by-minute account from the first of the flares to the flames reaching almost a mile high - the wind so searingly hot that the lungs of those in its path were instantly scorched - through the eerie period of reconstruction, bestselling author Sinclair McKay creates a vast canvas and brings it alive with touching human detail.
Along the way we encounter, for example, a Jewish woman who thought the English bombs had been sent from heaven, novelist Kurt Vonnegut who wrote that the smouldering landscape was like walking on the surface of the moon, and 15-year-old Winfried Bielss, who, having spent the evening ushering refugees, wanted to get home to his stamp collection. He was not to know that there was not enough time.
Impeccably researched and deeply moving, McKay uses never-before-seen sources to relate the untold stories of civilians and the military. This is a master historian at work.
Published:

28 October 2020

ISBN:

9780241986011

Imprint:

Penguin General UK

Format:

Paperback

Pages:

400

RRP:

$22.99
Extraordinary . . . a remarkably faithful account

Guardian on The Secret Life of Bletchley Park
Painstakingly researched and fascinating

John Harding, Daily Mail on The Secret Listeners
Lucid, well-researched and rich in detail

John Preston, Daily Mail on The Spies of Winter
Fascinating, riveting, unsettling, and wonderfully rich in period detail

Craig Brown, Mail on Sunday on Mile End Murder
Churchill said that if bombing cities was justified, it was always repugnant. Sinclair McKay has written a shrewd, humane and balanced account of this most controversial target of the Anglo-American strategic bombing campaign, the ferocious consequence of the scourge of Nazism

Allan Mallinson, author of Fight to the Finish
Compelling . . . Sinclair McKay brings a dark subject vividly to life

Keith Lowe, author of Savage Continent
Beautifully-crafted, elegiac, compelling - Dresden delivers with a dark intensity and incisive compassion rarely equalled. Authentic and authoritative, a masterpiece of its genre

Damien Lewis, author of Zero Six Bravo
Along with much affecting human detail, I particularly like the way it contextualises the city's obliteration with scenes from Dresden's rich history

Bookseller
This is a brilliantly clear, and fair, account of one of the most notorious and destructive raids in the history aerial warfare. From planning to execution, the story is told by crucial participants - and the victims who suffered so cruelly on the ground from the attack itself and its aftermath

Robert Fox, author of We Were There
Masterful

Simon Griffith, Mail on Sunday
Powerful . . . there is rage in his ink. McKay's book grips by its passion and originality. Some 25,000 people perished in the firestorm that raged through the city. I have never seen it better described

Max Hastings, Sunday Times
One of my favourite historians

Dan Snow, History Hit
McKay's rich narrative and descriptive gifts provide us with an elegant yet unflinching account of that terrible night . . . a very readable and finely crafted addition to the literature on one of modern history's most morally fraught military operations

Frederick Taylor, Wall Street Journal
McKay brings that time vividly alive but he's also alive to the moral ambiguities

Charlotte Heathcote, Daily Mirror
McKay recounts the story of Dresden's destruction through the recollections of those who miraculously survived, creating a kaleidoscope of experience . . . His prose, even when describing gruesome destruction, is often breathtakingly beautiful. This superbly rendered story allows the reader entry into the soul of an extraordinary city

Gerard DeGroot, The Times
A carefully researched, finely written and moving account of one of the great tragedies of 20th-century history

Saul David, Daily Telegraph
There have been many books on the bombing of Dresden (not least Kurt Vonnegut's novel, "Slaughterhouse Five"), but Sinclair McKay's account is a worthy addition. McKay's purpose is neither to condemn nor condone, but to record what happened and why. Above all, he rejoices in the modern city's resurrection

Economist
Accomplished

Prospect
Rich and colourful . . . [there is] a vividness and poignancy that other accounts have lacked

Richard Overy, Financial Times
McKay's book is better than narrative history. It is biography, but of place, rather than person. He makes Dresden come alive, before, during, and after the infernal 13th

John Lewis-Stempel, Daily Express, *****
A passionate and original account of the Allied bombing of Dresden in 1945, one of the most controversial evens of the Second World War

Best Books of 2020: our favourites so far
A weighty and considered investigation of events . . . an excellent book . . . providing a reliable, engaging, informative and, above all, sober narrative of events. The book will enable readers to make up their own minds - should they so desire - on the rights and wrongs of the matter. It is highly recommended

BBC History Magazine
This minute-by-minute retelling tackles the big questions, but also - by drawing on the letters and diaries from the Dresden City Archive - never loosed sight of the experiences of people who witnessed, and suffered, the attach first-hand

BBC History Revealed, Book of the Month
It's a wonderful book, so absorbing, thoughtful and thought provoking, I didn't want it to end

Maureen Waller, author of London 1945: Life in the Debris of War
The story of the Allied bombing of Dresden in 1945 is well known, but McKay's searing account is in a league of its own. His research is first-class, his writing elegant and emotive. He is brilliant at portraying the city's prewar beauty, grimly powerful on the horror of the firestorm, and moving and thoughtful about Dresden's rise from the ashes. By the end, I was itching to jump on a flight to Germany. That tells you about the skill and spirit of this terrific book

Dominic Sandbrook, The Times/Sunday Times Books of the Year