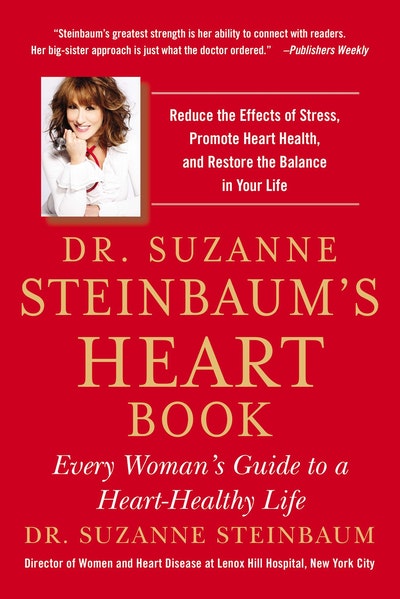 Published:

28 January 2014

ISBN:

9781583335420

Imprint:

Avery

Format:

Paperback

Pages:

384

RRP:

$31.99
Dr. Suzanne Steinbaum's Heart Book
Every Woman's Guide to a Heart-Healthy Life
---
---
In the tradition of Christiane Northrup, a renowned cardiologist integrates emotional and physical well-being in a revolutionary new approach to women's heart health.
As a cardiologist with a specialization in women's heart disease, Dr. Steinbaum has helped thousands of patients resolve their heart issues, and aims to do the same for readers in her inspirational book that will change the way we think about heart health. She guides readers through the risk factors of heart disease, from the traditional physical benchmarks like weight, cholesterol, and blood pressure, to lifestyle habits, emotional awareness, and even the way she sees herself in the mirror—and in the world.
In Dr. Suzanne Steinbaum's Heart Book, readers are shown clear, easy steps on how to maximize heart health. This is a life book that will teach women how to regain control over all aspects of their busy lives, including how to finally achieve:
A heart-healthy dietHeart-supportive exerciseHeart-enhancing stress managementHeart-filling relationshipsA sound night's sleepA more satisfying sex lifeA calm, focused mindA deep level of self careAnd much, much more.
Dr. Suzanne Steinbaum's Heart Book strives to bring forth a new approach to heart-centered healing so that readers everywhere may experience a fulfilling life of health and happiness.

Published:

28 January 2014

ISBN:

9781583335420

Imprint:

Avery

Format:

Paperback

Pages:

384

RRP:

$31.99
Praise for Dr. Suzanne Steinbaum's Heart Book
"Dr. Suzanne Steinbaum's revolutionary approach to heart health transcends traditional medicine and focuses on a woman's entire wellbeing. Not only does Suzanne know the importance of good nutrition, but her tough love approach encourages everyone to get out of their heads, live life from the heart, and heal ourselves from the inside out. Don't waste one more minute before reading this vitally important book that will help you listen to your heart and get back to your best self." —Cheryl Forberg, nutritionist for "The Biggest Loser" and New York Times bestselling author "Dr. Quinn has nothing on Dr. Suzanne Steinbaum, who has written the book all women need to read to keep their hearts healthy. Suzanne is a medicine woman extraordinaire, and understands that heart health begins with loving yourself and living life with an open heart."   —Jane Seymour, actress and author of Open Hearts "Finally a heart health book that brings emotions, spirituality and medical science together! Dr. Steinbaum's Heart Book delivers simple, yet profound, advice and wisdom for both doctors and patients alike to create a culture of deep care for all of us. At a time when so many people struggle with cardiovascular concerns, this book can serve as a powerful guide to true, lasting health." —Alexandra Jamieson, nutritional healing expert and author of Vegan Cooking for Dummies   "Dr. Suzanne Steinbaum truly is a role model in today's society. Not only is she there to help us mothers with our heart and minds, she is there to give us the guidance that we truly need in order to live a much healthier life inside and out!" —Lyss Stern, founder of DivaLysscious Moms and author of If You Give a Mom a Martini   "With the insight, skill, practical expertise and compassion of a true healer, Dr. Steinbaum helps women understand that imbalances of the heart—the feeling, emotional core of the being—are the secret cause of heart disease. This revolutionary and remarkable book is a must for every woman who wants to live a long, healthy—and happy—life." —Bill Gottlieb, certified health coach and author of Alternative Cures "Dr. Suzanne Steinbaum's revolutionary approach to heart health transcends traditional medicine and focuses on a woman's entire wellbeing. Not only does Suzanne know the importance of good nutrition, but her tough love approach encourages everyone to get out of their heads, live life from the heart, and heal ourselves from the inside out. Don't waste one more minute before reading this vitally important book that will help you listen to your heart and get back to your best self." —Cheryl Forberg, nutritionist for "The Biggest Loser" and New York Times bestselling author   "Dr. Quinn has nothing on Dr. Suzanne Steinbaum, who has written the book all women need to read to keep their hearts healthy. Suzanne is a medicine woman extraordinaire, and understands that heart health begins with loving yourself and living life with an open heart."   —Jane Seymour, actress and author of Open Hearts   "Finally a heart health book that brings emotions, spirituality and medical science together! Dr. Steinbaum's Heart Book delivers simple, yet profound, advice and wisdom for both doctors and patients alike to create a culture of deep care for all of us. At a time when so many people struggle with cardiovascular concerns, this book can serve as a powerful guide to true, lasting health." —Alexandra Jamieson, nutritional healing expert and author of Vegan Cooking for Dummies   "Dr. Suzanne Steinbaum truly is a role