Rachael Treasure explores gender bias in Australia's country stories.
'Farms need feminine energy. Otherwise farms will never truly thrive.' Rachael Treasure
Tasmanian country girl Rachael Treasure has borne witness to the man's world of intensive farming – blokes responsible for working the land and women for keeping the home. Following the breakdown of her marriage, and the loss of her family farm, Treasure became increasingly aware that everywhere she looked she was witnessing ongoing harm to the soil and degradation of the food-chain. Something wasn't working. She knew there had to be a better way to live and grow food in Australia. Down the Dirt Roads is Treasure's story of getting back to grassroots, discovering a new compass to live by, and finding inspiration in an alternative set of stories about country life in Australia.
From an early age Treasure had questioned the authenticity of the masculine stories of the bush that she, and so many Australians, grew up with. Her own family history featured a cast of formidable females. And, more recently, the new stories she was hearing reinforced that women had a vital role to play in the transition back to farming practices that valued health and the environment above companies and profits. Somehow, through time, important feminine perspectives had been buried in a flood of testosterone, and Treasure wanted to know why. From the pages of Down the Dirt Roads, here she takes a look beneath some masculine iconography of the Australian bush. 
It's so alluring – that Aussie image of a man in a Driza-Bone coat and akubra hat astride a work-fit horse, rivulets of mountain mist dampening his steed's sheened, muscled sides. The horse stands in silver waters tumbling over river rocks, with a backdrop swathe of twisting snow gums. Perhaps beyond that is the craggy, expan¬sive blue-tinged mountain range and with a split-log hut on a grassy spur in the near distance. Romantic? Or is it one of our nation's gender-biased, cultural, stereotypical clichés? And if it is, how did we arrive at it?
One of the most influential poems that set me on the path to writing was Banjo Paterson's 'The Man from Snowy River', and of course the famous movie the poem inspired. You know the one… where Siggy Thornton and Tom Burlinson had that oh-so-breathtaking kiss on the back of that gorgeous dun-coloured gelding. But even as I watched that film over and over as a teenager, I was concerned by what was embedded within the messages of that movie. Basically it was the guys who got to fang about on horses and chase cattle and brumbies through the scrub, while the chicks waited back at the homestead and played piano in frilly dresses. When the character of Jessica did ven¬ture out into the wilds of the mountains, her horse hit a pothole and Jessica ended up screaming on a cliff's edge, and had to be rescued by a bloke. I remember loving the romance and visuals of the film, but mistrusting the unconscious message buried within. Why couldn't Jessica ride the ranges and be a brilliant horsewoman, then go back to the homestead, soak in a goddess oil-scented bath, put her dress back on and make music?
It wasn't until I read Women Who Run with the Wolves that I saw the way society's mainstream stories tend to paint women as feeble, evil, or if they are strong, they are emulating the strengths of males… not our own strengths that I was learning to acknowledge and embrace as gifts that come with my gender, like nurture and intuition. How many kick-boxing, pump-action shotgun women are out there blasting and karate-chopping their way to domination now in films, taking on traditional male traits? Is it a step in the right direction in empowering women – or is it unbalancing us? In rejecting our feminine traits are we also reject¬ing good men and peace? I wonder what legend and fairytale expert Clarissa Pinkola Estés would have to say about it…
In my writing endeavours, on the cover of my first novel Jillaroo I deliberately asked photographer Bill Bachman to take a shot of a girl riding her work-fit, mountain-bred horse with the beautiful Great Dividing Range in the background. In the photo she was to be looking down to her bloke. He had to walk. For a short time before the covers of women's rural genre fiction reverted back to cliché and images of passive women in the land¬scape, I got to, in a small way, help alter the psyche of a nation when that cover hit the bookshelves. I know my Granno Joan and Granddad Archie would be proud of me. There are as many sheilas from Snowy River as there are men in our country, and there always have been. Now's our time, girls, to pick up our reins and ride!
---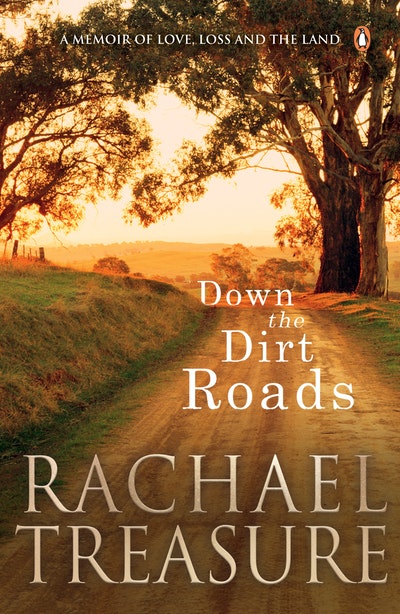 A powerful and moving memoir about healing, healthy food and hope by Australia's leading rural writer and environmental entrepreneur.
Buy now
Buy now
---