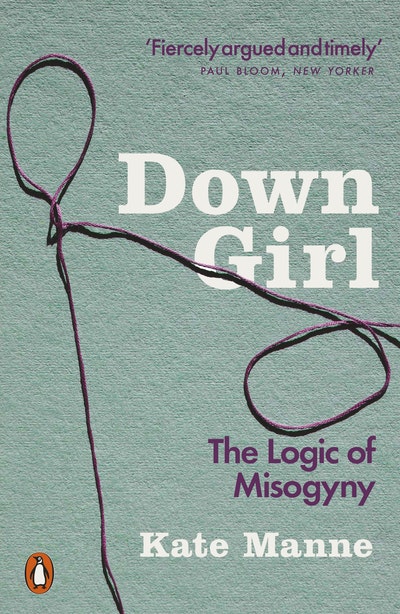 Published:

5 March 2019

ISBN:

9780141990729

Imprint:

Penguin Press

Format:

Paperback

Pages:

368

RRP:

$22.99
Down Girl
The Logic of Misogyny
---
---
---
'Fiercely argued and timely' (New Yorker), this is a must-read for the #MeToo era from a rising star philosopher
Misogyny is a hot topic, yet it's often misunderstood. What is misogyny, exactly? Who deserves to be called a misogynist? How does misogyny contrast with sexism, and why is it prone to persist - or increase - even when sexist gender roles are waning?
In Down Girl moral philosopher Kate Manne argues that misogyny should not be understood primarily in terms of the hatred or hostility some men feel toward all or most women. Rather, it is primarily about controlling, policing, punishing and exiling the "bad" women who challenge male dominance. And it is compatible with rewarding "the good ones" and singling out other women to serve as warnings to those who are out of order.
A powerful, lucid analysis of the logic of misogyny from a remarkable feminist thinker, Down Girl is essential reading for the #MeToo era.
Published:

5 March 2019

ISBN:

9780141990729

Imprint:

Penguin Press

Format:

Paperback

Pages:

368

RRP:

$22.99
An important and compelling analysis of a phenomenon that's everywhere. Out of Manne's thoughtful analysis, of not just much-debated high-profile events but also everyday experiences, emerge insight after insight into the what, why, when, and how of misogyny

Cordelia Fine, Big Issue
Fiercely argued and timely

Paul Bloom, New Yorker
Manne's book is a forensic and clever analysis which provides the cogs and wheels of how the system of patriarchal policing works, in our minds, as well as in our world. . . Down Girl offers a sharply cut prism through which to view our everyday experience

Afua Hirsch, Times Literary Supplement
Down Girl is excruciatingly well-timed, providing a theoretical framework for a phenomenon baring itself before us, perverse and pervasive. . . It reminds us that while revealing individual misogynists is hard, uprooting misogyny is much harder

Carlos Lozada, Washington Post
Really excellent. . . timely and intellectually rigorous

Nigel Warburton
The moment is ripe for a reckoning, and Manne offers the language and theory I've found myself grasping for. . . She combines the hyper-articulateness of a philosopher and the energy and humor of a down-to-earth millennial, which is electrifying

Regan Penaluna, Guernica Magazine
A must-read. . . should be in every feminist's library. . . Down Girl is destined to become a feminist literary classic alongside the likes of The Beauty Myth by Naomi Wolf or Betty Friedan's The Feminine Mystique

Jennifer Taylor Skinner, The Electorette
Kate Manne does a jaw-droppingly brilliant job of explaining gender and power dynamics which have always been purposefully muddied, but which shape how and to whom sympathy and presumptions of full humanity accrue. . . Perceptive, bold, stylishly written and bracingly clear eyed, Down Girl is one of the best books I have ever read on gender and power; I will never stop learning from it

Rebecca Traister, author of Good and Mad
Everyone should read Down Girl. It should be distributed in schools and every board room, athletic department and legislative space

Soraya Chemaly, author of Rage Becomes Her
An exciting next-generation feminist philosopher

Elizabeth Anderson