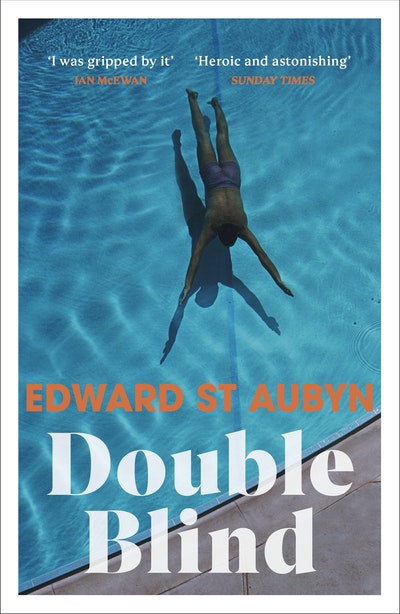 Published:

1 March 2022

ISBN:

9781784707439

Imprint:

Vintage

Format:

Paperback

Pages:

352

RRP:

$22.99
Double Blind
---
---
---
Three friends encounter the limits of love, life and science in this mesmerising new novel from the author of the Patrick Melrose series.
Olivia is a talented geneticist with a personal stake in her field. She thinks deeply about who she is and why -- more deeply than many, perhaps, because her parents, both respected psychoanalysts, adopted her as a baby. The fate of her twin birth-brother is unknown.
When Olivia meets Francis, a young naturalist rewilding a corner of Sussex, and is reunited with her best friend Lucy, recently returned from a high-flying career in New York, her life expands in exciting and disorienting ways. But just as Olivia is daring to fall in love, Lucy receives devastating news which requires her friends to become her family. At the same time, Olivia's father has started to treat a struggling, clever man of his daughter's age whose story sets off unnerving echoes, ethical dilemmas, and the possibility of a shattering encounter . . .
Moving from London to Provence to California and back to a beautiful woodland entirely off the grid, Double Blind is a breathtaking, kaleidoscopic novel exploring friendship, love, consciousness and the natural world, and pushing against many of the received orthodoxies of popular science. It is about nature, nurture, enquiry, perception, and the myriad ways we try to understand what it means to be alive.
Published:

1 March 2022

ISBN:

9781784707439

Imprint:

Vintage

Format:

Paperback

Pages:

352

RRP:

$22.99
If, as Henry James said, the first duty of the novelist is to be interesting, he would be happy in St Aubyn's company. Double Blind is emotionally cogent and intellectually fascinating. There are reflections and conversations here which adroitly evoke those important intersections where science and our urgent contemporary concerns meet. I was gripped by it.

Ian McEwan
This is the best kind of novel of ideas, as entertaining as it is chewy, not to mention immensely pleasurable on the sentence level

Stephanie Cross, Daily Mail
This is a novel with heart... Double Blind is both clever and compassionate, confirming St Aubyn as among the brightest lights of contemporary British literature

Alex Preston, Spectator
St Aubyn has lost none of his ability to create rounded characters...and the witty dialogue is well up to the standard of the Melrose books

Jake Kerridge, Daily Telegraph
Double Blind is a book of big ideas, in which the characters experiment with medicine, psychology, narcotics, religion and meditation to understand themselves and find peace. But as cerebral as the book is, it is also deeply felt, because St Aubyn has been thinking about these issues for decades

Hadley Freeman, Guardian
There is in Double Blind a compassion that St Aubyn has elsewhere tended to either eschew or keep implicit. Despite the novel's acerbic edge, St Aubyn is attentive to his characters' suffering and vulnerability whatever their privileges . . . St Aubyn's prose is as elegant as anybody familiar with his previous work might expect. Indeed, so consistent is the writing's quality the reader is apt to miss its many charms, acclimated as they are to it . . . Double Blind is yet another ambitious work by one of today's finest literary stylists

Luke Warde, Irish Independent
Where Patrick Melrose's trauma was childhood abuse and neglect, for Francis it's abuse and neglect of the planet, for which a new interconnectedness with nature is the only cure... It's bold of St Aubyn to write a novel that's so much about science and about so much science... ideas matter and so does the novel of ideas.

Blake Morrison, Book of the Week, Guardian
Shakespearean in scope and tone, moving from the intimate to the universal within paragraphs and providing tragedy, comedy and human frailty... A less practised author would run the risk of over-saturating all the disparate strands, but St Aubyn offers comment on the natural world, genetics, family dynamics, philosophy, psychiatry and ecology without forgetting the tapestry-like threads of the story itself-and provides a satisfying resolution to boot... Brimful of energy, this novel asks big questions-"How could one ever truly enter into another subjectivity?"-without giving us all the answers... Pacey, caustic and self-aware, it is this neatly choreographed dance of themes and ideas that makes for such absorbing and immediate reading.

Zoe Apostolides, Prospect
Likeable and rounded characters and a celebration of the best things in life: the wilderness of Knepp and a touching but complex love story... St Aubyn's reinvention as a writer is heroic and astonishing. He has emerged from the "very difficult truth" of this childhood to write brilliantly about that and, now, about a lot more.

Bryan Appleyard, Sunday Times
Both moving and so funny I had to stop every few pages to wipe tears from my eyes

Ruth Ozeki, Observer, *Books of the Year*
As an addict of Edward St Aubyn's crystalline prose, I devoured Double Blind, a typically audacious blend of big themes

Suzi Feay, Tablet, *Books of the Year*