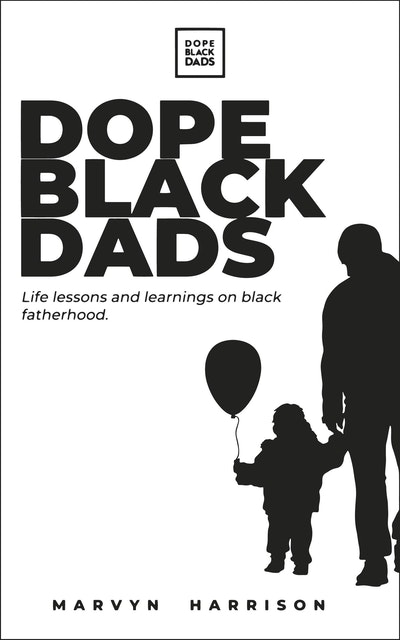 Published:

2 July 2022

ISBN:

9781529110470

Imprint:

Square Peg

Format:

Trade Paperback

Pages:

272

RRP:

$39.99
Dope Black Dads
Life Lessons and Learnings on Black Fatherhood
---
---
A vital guide to positive, life-affirming and joyful Black fatherhood, from the founder of Dope Black Dads.
On Fathers' Day in 2018, Marvyn Harrison created a WhatsApp group with all the Black fathers he knew (at the time, twenty-three people) to wish them a happy Fathers' Day. This small group chat grew to become a community; a hub for knowledge-sharing and support, with the network discussing co-parenting, cohabiting, marriage, fatherhood, blended families and much more. Dope Black Dads is now an internationally recognised community of over 40,000 across the UK, US, South Africa and beyond sharing their personal stories, journeys, life lessons and learnings derived from their experiences of being Black fathers.
In this book, Marvyn brings to light his experience of Black fatherhood, discussing his own journey into fatherhood, his relationship with his own father, and the narratives around Black fatherhood, bringing in fellow Dope Black Dads such as Tinie Tempah, Mark Maciver, Raphael Sofoluke and Maurice Mcleod to share their stories, wisdom, advice and fatherhood hacks.
From deep dives into how you can prepare for fatherhood, working on your emotional and mental wellbeing ahead of having a child and learning how to love yourself as well as your partner and child, to the practicalities of co-parenting, co-habiting, finances and health to the importance of supporting Black women, examining Black masculinity and celebrating LGBTQIA+ Black dads, Dope Black Dads is an honest, informative and much-needed guide to Black fatherhood in all its forms.

Published:

2 July 2022

ISBN:

9781529110470

Imprint:

Square Peg

Format:

Trade Paperback

Pages:

272

RRP:

$39.99