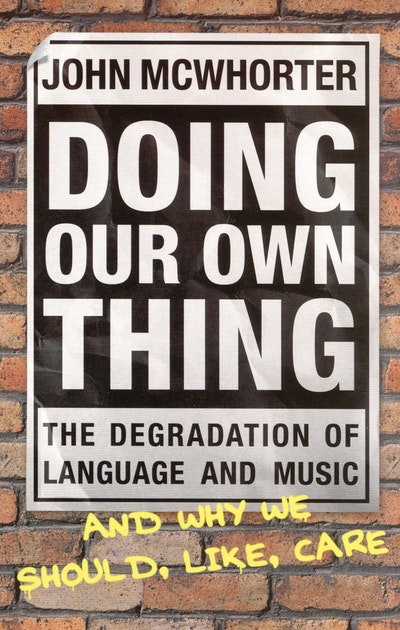 Published:

2 January 2006

ISBN:

9780099445357

Imprint:

Arrow

Format:

Paperback

Pages:

304

RRP:

$32.99
Doing Our Own Thing
The Degradation of Language and Music and Why We Should, Like, Care
---
---
---
Is the English language in decline? Is contemporary music a pale imitation of the musical riches of the past? Linguist John McWhorter argues in this provocative, controversial book that the legacy of the 1960's has caused us to value the verbal and the oral over the written forms of language and music, impoverishing our culture.
Once languages become written, they change. Only in writing does language develop the artfulness and richness that we associate with a Shakespeare, a Proust or a Whitman. Yet over the last forty years, the English-language has effectively gone into reverse - taking our lead from America and the legacy of the 1960s, our culture increasingly privileges the oral over the written, spurning the art of elaborated, 'written'-style language in favour of returning to the state of a spoken culture. Parallel developments have occurred in music.
In this controversial and thought-provoking book, John McWhorter argues that the 1960's rejection of cultural traits associated with the Establishment, as well as a democratic celebration of what anyone can do over what requires training or talent, has led to our culture being increasingly impoverished, both intellectually and artistically...
Published:

2 January 2006

ISBN:

9780099445357

Imprint:

Arrow

Format:

Paperback

Pages:

304

RRP:

$32.99
Praise for Doing Our Own Thing
'Every generation believes that language is in decline, but Doing Our Own Thing argues that this time the concern is real... John McWhorter's...analysis is insightful, richly documented, and yes, eloquently written.'

Steven Pinker
'Fascinating... Generally persuasive and always entertainingly argued... An arresting thesis... McWhorter's...examples reflect a wide-ranging knowledge of popular culture, and he is full of odd, illuminating facts.'

Independent