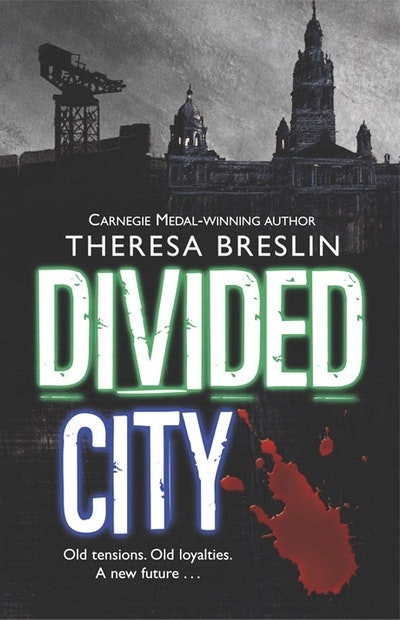 Published:

1 August 2011

ISBN:

9781446450260

Imprint:

Penguin eBooks

Format:

EBook

Pages:

256
Divided City
---
---
---
A gripping and powerful story of two boys from rival backgrounds, for fans of The Hate U Give and The Upper World.
Glasgow is a divided city. Catholics and Protestants; Celtic and Rangers. Stumble down the wrong street at night, and you might not find your way home again.
Joe and Graham should never have become friends, but football brings them together. They don't want to get involved in the conflict and rivalry. They just want to talk, play, live and breathe the beautiful game.
But the Orange Walks are beginning - the annual marches that bring the city's tensions to the surface. And Joe and Graham have to decide where their loyalties lie.
A powerful, gripping story about friendship, prejudice and tolerance from multi-award-winning author Theresa Breslin.
'An outstanding writer . . . Superb' Independent
Published:

1 August 2011

ISBN:

9781446450260

Imprint:

Penguin eBooks

Format:

EBook

Pages:

256
This political and religious cocktail makes for a thought-provoking read for teenagers

Sonia Benster, The Bookseller
Compelling...this humane and edgy story prickles and nudges the reader towards tolerance and understanding of other communities.

TES Teacher
This is a book with far-reaching appeal and universal themes that will encourage young readers to challenge bigotry.

Kate Agnew, Guardian
'Compulsive, contemporary novel'

Lesley Agnew, The Bookseller
'A powerful novel to provoke, intrigue and inform KS 3 and older readers, which will promote the kind of debate necessary to inform and educate.'

Writeaway!
'Theresa Breslin confrints Glasgow sectarian rivialries head on in this vivid and gripping tale.'

Publishing News
'Another excellent book by a clever author.'

Bury Free Press
'A skillfully plotted page-turner.'

Inis
'A tense, fast-moving narrative...Theresa Breslin does what few other writers could: she maintains a balance not merely cerebral but deeply felt, based on experience and understanding...an important book, not just for its gripping story but for its social and moral insights.'

School Librarian
'A cracking good read...this isn't a preachy novel ,but if there's a message it's this: if we want to understand one another, perhaps the best way is through the young.'

Guardian
Told with a straight and uncomplicated style...a positive and contemporary look at friendship across the divide.

The List
'Breslin... is adroit both at convincingly inhabiting the minds of two football-mad teenagers and at deploying the game [football] as metaphor.'

Books for Keeps
'Mature in its subject matter, Breslin's novel doesn't shy away from this most contentious of issues [racism] and tackles it with aplomb...a bold and fast-paced book...highly recommended.'

Birmingham Post
This children's book is a timely insight into sectarianism and racism - one of the 20 Scottish books everyone should read.

The Scotsman
Compelling and contemporary.

Lesley Agnew, The Bookseller
A gripping and moving story about what it is like to feel different and how we all have a part to play in making life better

Newcastle Upon Tyne Evening Chronicle
A gripping tale about boys who must find their own answers - and their own way forward - in a world divided by differences.

Betty Bookmark
This timely book delivers an important message, furthers our understanding of prejudice and - above all - is an utterly compelling read.

First News
Short review

The School Librarian
Short review

Writing Magazine
a gripping and moving story

Newcastle Uppon Tyne Evening Chronicle (Series)
This book is an excellent insight into old prejudices and how they can be overcome

Glasgow Herald
This is gripping and moving story about what it is like to feel different and how we all have a part to play in making life better.

Newcastle Upon Tyne Evening Chronicle
Divided City by Theresa Breslin, a skilfully plotted, edgy story of life from the football terraces in Glasgow.

Western Mail
Short story about author: Theresa Breslin opening the new library at St Mirin's Primary School in King's Park. Mention: Divided City

Glasgow Evening Times
A moving and epic story

Scottish Book Trust