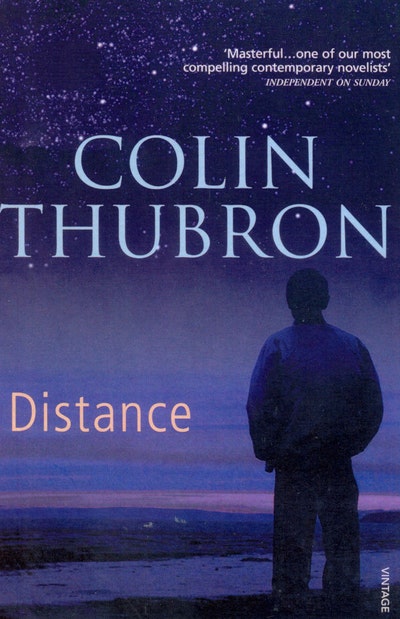 Published:

15 November 2010

ISBN:

9780099552079

Imprint:

Vintage

Format:

Paperback

Pages:

224

RRP:

$24.99
Distance
---
---
A highly wrought, tautly written, thought-provoking novel exploring the human mind and the human memory..
Edward has lost his short term-memory. He hopes it will return when he sees the cottage in which he lives. He recognizes his overcoat on the hook, his books, the double bed. The mystery however, is Naomi. Edward has no recollection of who she is or why she has left him a love letter.
With Thubron's customary clarity he draws a bleak, amnesiac world in which a young man must face again old griefs and linger 'like a coward, just this side of knowing'. On the other side, the memory of a destructive, obsessive relationship looms.
Published:

15 November 2010

ISBN:

9780099552079

Imprint:

Vintage

Format:

Paperback

Pages:

224

RRP:

$24.99
This is a cracking read...Character and situation are evoked with masterful economy of language, and the taut, crisp sentences impart a hypnotic quality, as though it were a dream swiftly noted down on waking, before it fades

Independent
The novel's structure makes arresting use of a Metaphysical-like conceit linking the macrocosm and the microcosm - eternity and mortality, black holes and blank memories, dying stars and dead mothers - while the prose itself is admirably short on pretension and subtle in its emotional layering. Thubron's skill as a travel writer comes to the fore in the evocation of the earth's exotic places, dangerous heights and dark depths, the latter echoing the murky terrain of Edward's mind

Sunday Times
The writing is spare and unfussy, and in the book's closing stages the basic thriller mechanism - what horrible secret lurks in memory's locked attic? - is screwed tighter with each page

Observer