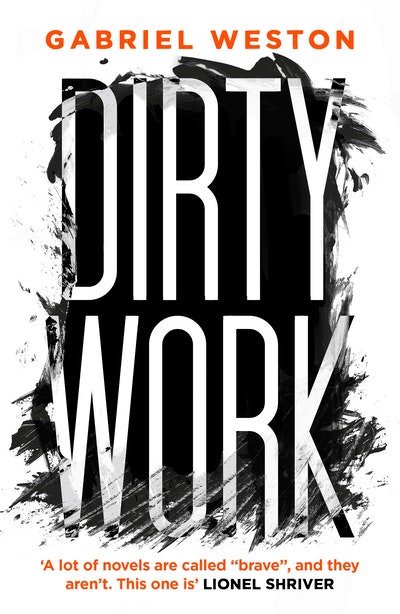 Published:

15 June 2014

ISBN:

9780099555056

Imprint:

Vintage

Format:

Paperback

Pages:

192

RRP:

$19.99
Dirty Work
---
---
---
A powerful, gripping novel that confronts one of the great contemporary taboos head-on. By the author of the brilliant Direct Red.
Winner of the McKitterick Prize
Two women in a room.
'Courageous' Rachel Cusk, Guardian
One is dying.
'Gripping' Observer
The other just sits back and watches.
'Necessary' Independent
For both, there is everything to lose.
Surgeons are meant to save lives, but Nancy is a special kind of surgeon. When she makes a mistake in the operating theatre she is summoned to explain herself to a tribunal and is forced to consider what it means to be a doctor who has killed as well as cured. And to realise that her own redemption can only come through telling a tale that nobody wants to hear.
Gabriel Weston, author of the acclaimed Direct Red: A Surgeon's Story, winner of the 2010 PEN/Ackerley Prize, has written an extraordinarily moving and powerful novel.
Published:

15 June 2014

ISBN:

9780099555056

Imprint:

Vintage

Format:

Paperback

Pages:

192

RRP:

$19.99
A lot of novels are called "brave", and they aren't. This one is.

Lionel Shriver
A brilliantly intense, thought-provoking story

Stylist
Gripping, well-researched and elegantly written

Rosamund Urwin, Evening Standard, Books of the Year
This courageous and interesting author is that unusual thing, a contemporary moralist

Rachel Cusk, Guardian
Bold, brave, and uncomfortable… it's a gripping read

Observer
The subject matter is brave, the moral perspective complex, the writing vivid

Lionel Shriver, Mail on Sunday
Weston has an unwavering passion for the truth as well as the courage to tell it.

Ian Thomson, Sunday Telegraph (Seven)
Weston excels at writing about medicine precisely…but with great subtlety of tone that allows readers to appreciate the human faultlines that lie beneath conventional portraits of doctoring.

Vivienne Parry, The Times
Weston is a superb writer of lucid and evocative prose… This is not a dark book so much as a deeply thoughtful one

Independent
Extraordinarily powerful.

Reading Matters
An important and thought-provoking book.

Farmlane Books
Few writers capture the mentality of surgery as incisively as Ms Weston has managed to. Her experiences in hospitals are palpable on the page.

Economist
Intense.

Victoria Burt, UK Regional Press Syndication
Highly intense… Impressive stuff.

Doug Johnstone, Big Issue
Extremely powerful.

The Skinny
Extraordinarily powerful.

Reading Matters
An important and thought-provoking book.

Farmlane Books
Will certainly raise questions for further thought by the reader even after putting the book down.

We Love This Book
Weston's fast-paced novel raises questions of integrity, morality and medical ethics.

List
A powerful piece of writing.

UK Press Syndication
The subject matter is brave and necessary… Weston is a superb writer of lucid and evocative prose… This is not a dark book so much as a deeply thoughtful one. I would make it obligatory for the medical curriculum.

Leyla Senai, Independent
Gripping, well-researched and elegantly written – but definitely not for the squeamish.

Rosamund Urwin, Evening Standard
Scalpel-sharp.

Ian Thomson, Observer
Weston's fast-paced novel raises questions of integrity, morality and medical ethics.

List
A powerful piece of writing.

UK Press Syndication
Dirty Work is a fascinating, thought-provoking and at times deeply troubling tale. Weston presents a balanced and brutally honest portrayal of a difficult theme.

Ray Clarke, ENT & Audiology News
Visceral and moving.

William Leith, Evening Standard