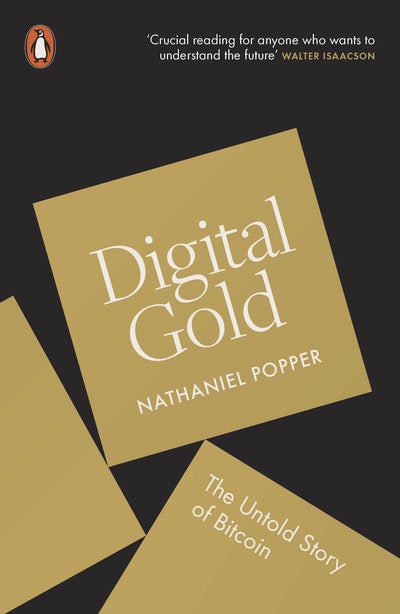 Published:

15 August 2016

ISBN:

9780241181003

Imprint:

Penguin eBooks

Format:

EBook

Pages:

416
Digital Gold
The Untold Story Of Bitcoin
---
---
---
The first serious and authoritative history of Bitcoin and the new digital economy
Digital Gold charts the rise of Bitcoin from its origins in 2009 as the brainchild of a Wizard of Oz-like programmer, Satoshi Nakamoto, to its evolution into the prevailing currency for transactions on the deep web drug retailer, Silk Road, to its present incarnation as a rising, volatile force in the financial sector and an increasingly relevant part of consumers' lives. The author has been covering this story from the outset for The New York Times.
Popper's book will delineate the participation of dozens of unusual characters who came to be major players in the global digital currency movement. The book travels from Japan, the purported home of the reclusive Nakamoto; to Brooklyn College, where Charlie Shrem, a short, slubby senior cofounded BitInstant with an autistic Welshman named Gareth Nelson; to Seattle, where Peter Vessenes, an ambitious entrepreneur, first attracted and then repelled investors; and also to the lava plains of Iceland, where Emmanuel Abiodun's large-scale Bitcoin-mining company runs complex algorithms 24 hours a day to unearth new Bitcoins.
As digital currencies have become relevant players for business, some of its earliest founders have lost their footing. Shrem was arrested in January for money-laundering, while in October, the FBI seized $140 million worth of Bitcoins from Silk Road, whose founder, Ross William Ulbricht, was arrested and charged with conspiracy to traffic narcotics and a host of other crimes.
Published:

15 August 2016

ISBN:

9780241181003

Imprint:

Penguin eBooks

Format:

EBook

Pages:

416
Many believe that Bitcoin is all about the algorithm: that its magnetic personalities are less important than its mathematical principles. Digital Gold is deeply-reported disproof of any such theory. Whether Bitcoin succeeds or fails will be due to the actions of the people in this book

Felix Salmon, senior editor, Fusion
The most compelling and in-depth investigation into the world of Bitcoin and digital currency. Nathaniel Popper charts Bitcoin's fascinating transformation from fringe oddity to a truly global currency. If you want to understand the future of money, read this book

Joshua Davis, author of Spare Parts
An engrossing introduction to one of the most transformative innovations in finance of the last few decades. Digital Gold paints a vivid portrait of the economics and technology of Bitcoin as well as the people behind it

Susan Athey, The Economics of Technology Professor, Stanford Graduate School of Business and Winner of the John Bates Clark Medal in Economics
Bitcoin may be a product of computer science, but it is a very human story. This highly entertaining history reminds us yet again that truth can be stranger than fiction and can be peopled with even more unusual and compelling characters

Larry Summers, former Secretary of the Treasury of the USA
Finally, the book so many of us have been waiting for: A riveting and smart account of the strange history of Bitcoin. You'll start knowing nothing about Bitcoin and finish with deep knowledge, but you won't realize you're learning along the way -- you'll just think it's a lot of fun

Adam Davidson, co-founder of NPR's Planet Money
In the remarkable Digital Gold, Nathaniel Popper gives us a front-row seat on the origins of Bitcoin and its captivating cast of characters. Thanks to Popper's elegant, thrilling tour-de-force, the fast-paced action never stops in the ongoing quest to create something the world has never seen before: virtual money

William D. Cohan, author of House of Cards
An amazing story. Bitcoin is about to transform both finance and how we use the internet, and this fascinating book chronicles its unlikely genesis. Popper has produced a riveting tale filled with colorful innovators that is crucial reading for anyone who wants to understand the future

Walter Isaacson