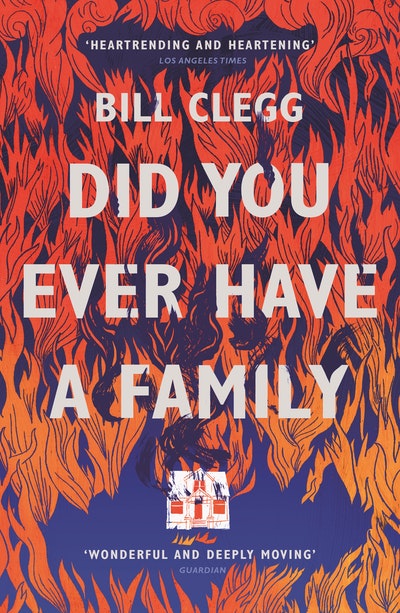 Published:

19 September 2016

ISBN:

9781784701055

Imprint:

Vintage

Format:

Paperback

Pages:

304

RRP:

$22.99
Did You Ever Have a Family
---
---
---
We all have families. What do you do when your family has just been destroyed?
This book of dark secrets opens with a blaze. On the morning of her daughter's wedding, June Reid's house goes up in flames, destroying her entire family – her present, her past and her future. Fleeing from the carnage, stricken and alone, June finds herself in a motel room by the ocean, hundreds of miles from her Connecticut home, held captive by memories and the mistakes she has made with her only child, Lolly, and her partner, Luke.

In the turbulence of grief and gossip left in June's wake we slowly make sense of the unimaginable. The novel is a gathering of voices, and each testimony has a new revelation about what led to the catastrophe – Luke's alienated mother Lydia, the watchful motel owners, their cleaner Cissy, the teenage pothead who lives nearby – everyone touched by the tragedy finds themselves caught in the undertow, as their secret histories finally come to light.
Lit by the clarity of understanding that true sadness brings, Did You Ever Have a Family is an elegant, unforgettable story that reveals humanity at its worst and best, through loss and love, fracture and forgiveness. At the book's heart is the idea of family – the ones we are born with and the ones we create – and the desire, in the face of everything, to go on living.
Published:

19 September 2016

ISBN:

9781784701055

Imprint:

Vintage

Format:

Paperback

Pages:

304

RRP:

$22.99
Praise for Did You Ever Have a Family
The force, range, and scope of Bill Clegg's Did You Ever Have a Family grab you with its opening line, and don't let go until its final one. I can't recall another novel that so effortlessly weds a nuanced, lyrical voice to an unflinching vision of just how badly things can go for people. I read it deep into the night, all the way through, telling myself it was getting late, I could finish the book in the morning. I finished it that night, however, slept a few hours, and then, in the morning, started reading it again.

Michael Cunningham, author of The Hours
Like the question it poses, Did You Ever Have a Family is brutally direct yet it's got an enormous symbolic power. You hold in your hands a great book of kindness - every restrained, exquisite sentence comes loaded for bear. It's been a lot of years since a novel has so moved me. Number Bill Clegg among that endangered species: major American writer.

Darin Strauss, author of Chang and Eng and Half a Life
Full of small-town secrets and whispers, Bill Clegg has woven a richly textured tale of loss and healing. This is a deeply optimistic book about the power of human sympathy to pull us from the wreckage of our fate.

Anne Enright, winner of the Man Booker Prize
This devastating novel is almost the definition of a literary pageturner and somehow it escapes being too bleak: a dark tale of family secrets shot through with glimmers of light and hope.

Bookseller
A masterfully well-made debut.

Sam Leith, Radio Times
Clegg has produced a moving, clever novel that subtly dissects the relationships between mothers and their children, lover, neighbours and strangers.

Fiona Wilson, The Times
A tale of prodigious tenderness and lyricism.

Clare Clark, Guardian
Beautifully paced. it approaches grief gently and, in the end, its gentleness is its triumph.

Lucy Daniel, Telegraph
It's the kind of book which will sneak up on you when you least expect it, and remain in your mind for weeks after reading it.

Daniel Carpenter, Bookmunch
Written with compelling simplicity.

Kerry Fowler, Sainsbury's Magazine
Cleverly constructed, carefully written and deservedly longlisted for this year's Booker Prize.

Harry Ritchie, Daily Mail
Deeply moving.

Psychologies
Clegg's story is frequently affecting.

James Kidd, Independent
This is a remarkable novel, that rare kind where you both want to reach the end for answers but also to savour every page. I cannot recommend it enough.

Rosamund Urwin, Evening Standard
At times a harrowing read, the slow and deliberate manner with which connections are revealed and questions answered is genuinely satisfying. By the time Clegg's narrative strands converge, the glimpse that he grants of a brighter future feels earned.

Stephanie Cross, Lady
An emotionally resonant debut.

Sunday Times
A moving lament on guilt and grief, not to mention a gripping thriller.

Harpers Bazaar
A sad yet hopeful novel built from both suffering and kindness.

Erica Wagner, New Statesman
A true beauty of a novel.

Georgina Lane, Belle About Town
Poignant and haunting debut.

Suzi Farry, Sunday Express
Clegg shows an impressive depth and range of voice as he tells a story of friendships, broken families, burgeoning love, and the aftermath of grief.

Mail on Sunday
Clegg is committed to unravelling the complexities of human nature.

Janette Currie, Independent on Sunday
Through distinctive and instantly recognisable characters, this novel finds beauty in pain, grief and regret.

UK Press Syndication
Clegg writes with warmth and a deep understanding of grief.

Saga Magazine
Wonderful narrative of chance, grief, and the ways we feed on and nourish each other.

John Burnside, New Statesman
Fabulous.

James Kidd, Independent
Told its heart-breaking tale with tenderness and verve.

Alex Preston, Observer
A work full of secrets, shame and scandal.

Fiona Wilson, The Times
A story of what can be found when so much has been snatched away.

Kerry Fowler, Sainsbury's Magazine
A meditation on enduring the unendurable. This is a wonderful and deeply moving novel.

Clare Clark, Guardian
A beautiful, heart-rending novel of quiet, understated tragedy. Sensitive and insightful, heart-breaking and hopeful. [A] tender, wise and hopeful novel.

Hannah Beckerman, Observer