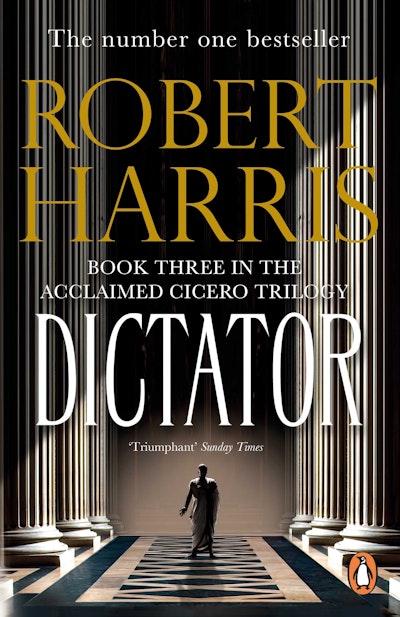 Published:

13 June 2016

ISBN:

9780099474197

Imprint:

Arrow

Format:

Paperback

Pages:

544

RRP:

$22.99
Dictator
(Cicero Trilogy 3)
---
---
---
From the No. 1 bestselling author of Fatherland, An Officer and a Spy, Enigma, Archangel, Pompeii and The Ghost.
'Confirms Harris's undisputed place as our leading master of both the historical and contemporary thriller' Daily Mail
_________________
LAWS ARE SILENT IN TIMES OF WAR. -- Cicero
There was a time when Cicero held Caesar's life in the palm of his hand.
But now Caesar is the dominant figure and Cicero's life is in ruins.
Cicero's comeback requires wit, skill and courage.
And for a brief and glorious period, the legendary orator is once more the supreme senator in Rome.
But politics is never static.
And no statesman, however cunning, can safeguard against the ambition and corruption of others.
_________________
'The finest fictional treatment of Ancient Rome in the English language' - The Scotsman
Published:

13 June 2016

ISBN:

9780099474197

Imprint:

Arrow

Format:

Paperback

Pages:

544

RRP:

$22.99
Harris is brilliant at the political then-as-now, giving Caesar with a hint of Blair - and also of Thatcher

Peter Stothard, Spectator
Sinuous, clever and compelling.A fitting end to a magnificent trilogy

Metro
Triumphant

Sunday Times
Superb.confirms Harris's undisputed place as our leading master of both the historical and contemporary thriller

Daily Mail
Robert Harris is an incomparable storyteller... It's a brutal tale of murder and mayhem and a tour de force of research and imagination...

The Express
A riveting read

Sunday Express
Harris' Cicero is a bit special - a mix of genius and craft, kindness and pomposity, ambition and principle

Daily Mail (Scotland)
Staying close to the sources, Harris picks his way masterfully through Cicero's personal and political dilemmas.superb.does full justice to one of Rome's most interesting complex and humane statesmen, whose pragmatic political treatises proved so influential during the renaissance and enlightenment

Evening Standard
Triumphant, compelling and deeply moving.the finest fictional treatment of Ancient Rome in the English language. They are distinguished by the mastery of the sources, sympathetic imagination, political intelligence and narrative skill.It's a wonderful, dramatic, story, wonderfully told

Scotsman, Allan Massie
The book works.more than that; at times it sings. Thrillers are supposed to thrill, but few really do raise your heart rate and short-circuit your critical faculties.Exhilarating.This trilogy deserves the highest compliment that can be paid to a work of historical fiction

The Times
Harris' version of Cicero is a tremendous creation

Independent
Robert Harris's Cicero trilogy ends in grand style.the culmination of 12 years work and a remarkable literary achievement

Observer
A masterful story of political intrigue.a fascinating and absorbing novel

Financial Times
Robert Harris brings his Cicero trilogy to a triumphant, compelling and deeply moving conclusion.The three novels are surely the finest fictional treatment of Ancient Rome in the English language.distinguished by a mastery of the sources, sympathetic imagination, political intelligence and narrative skill

Yorkshire Post
Harris skilfully navigates these fraught years in Cicero's life . Dictator triumphs

The New Stateman
Harris is a masterful storyteller. I'm currently experiencing that terrible phase of cold turkey after finishing something superb

Alastair Moffat, Herald
Harris's fascination with politics galvanises his impressive knowledgeableness into compulsive fiction

Peter Kemp, The Sunday Times
[Dictator's] gripping dramas and powerful themes - the fragility of democracy and the fallibility of human beings among them - richly illuminate the conflicts of its era and our own

Publishers Weekly
Robert Harris completes his wonderful trilogy based on the life of Cicero. I haven't enjoyed Roman history more since Robert Graves's I, Claudius

Anthony Horowitz, Guardian, Book of the Year
Contemporary echoes abound in this endlessly fascinating exploration of power struggles

Craig Brown, Mail on Sunday, Books of the Year
I'm a big fan of Robert Harris so I'd like to read his latest, Dictator. Robert is very good at politics and evoking a period

Melvyn Bragg, Good Housekeeping, Books of the Year
Penetrating and utterly compelling

Claire Allfree, Metro, Books of the Year
Contemporary echoes abound in this endlessly fascinating exploration of power struggles

Craig Brown, Mail on Sunday, Books of the Year
In Dictator, Robert Harris brings his trilogy on Cicero to a triumphant end. As one who has himself written novels set in the last years of the Roman republic and the first century of empire, I am happy to say that Harris reigns supreme. His Cicero is magnificent; couldn't conceivably be done better

Alan Massie, Spectator, Books of the Year
Harris's fascination with politics galvanises his impressive knowledgeableness into compulsive fiction

Peter Kemp, The Sunday Times, Books of the Year
A superior historical thriller

Fiona Wilson, The Times, Books of the Year