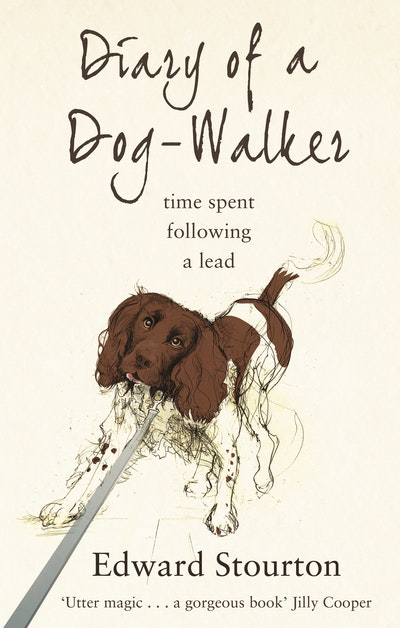 Published:

15 May 2012

ISBN:

9780552777278

Imprint:

Black Swan

Format:

Paperback

Pages:

192

RRP:

$19.99
Diary of a Dog-walker
Time spent following a lead
---
---
Based on the popular series of articles which appeared in the Telegraph, Edward Stourton muses on the meaning of life and all things canine as he walks his dog Kudu.
Our dogs are our friends. We choose to believe that they understand us intuitively, that we can confide in them and that they will support us without question. In return we lavish them with affection, overlook faults and invest them with glorious qualities we rarely spot in our fellow humans. Walking the dog allows us to give fantasy full rein. New vistas open up. Social gatherings occur that are entirely outside our normal day-to-day experience . . .
Edward Stourton's columns, recording his regular excursions with Kudu, the Springer spaniel, appeared fortnightly in the Telegraph from May 2009 until September 2010. They form the basis for this witty, charming and revealing book of canine musings. Ed's focus might momentarily seem trivial, but his canvas proves to be immeasurably wide. Kudu's small trips to the park offer big insights into romantic attachment, warfare, guilt and depression, honour and heroism, our sense of duty, beauty and the hard facts of life's pecking order.
Engaging and enlightening, Diary of a Dog-Walker will be utterly irresistible for any man or woman with a dog.
Published:

15 May 2012

ISBN:

9780552777278

Imprint:

Black Swan

Format:

Paperback

Pages:

192

RRP:

$19.99
Praise for Diary of a Dog-walker
Utter magic. Edward Stourton is civilized, charming, and writes like an angel. The dogs all spring to life but this is a gorgeous book for everybody - not just for dog lovers. I love it

Jilly Cooper
The sort of book that might convert even a cat-lover to the charm of canine company

Jane Shilling, Mail on Sunday
Delightful... [a] charming and thoughtful book

The Oldie
Diary of a Dog-walker is a delight, combining gossipy politics and shaggy dog stories adroitly

Time Out
After a career setback at BBC radio, Edward Stourton took stock of his life with these imaginative meanders with Kudu his English springer spaniel, who seemed to have an angst-free life. This is the world conceived on a canine level, interpreted with intelligent humour and human interest by his affectionate owner

Iain Finlayson, Saga Magazine
A thoroughly enjoyable ramble through a diverse selection of topics which range from dogs of war and dog fighting to presidential pets and choosing the right name... In turn serious, funny, sad and light-hearted; it's a perfect mixture which is just right for the bedside table

Karen Bush, Your Dog
Stourton is a genuinely warm and engaging writer who clearly loves his canine companion, despite his (relatively few) faults, and this little book is a tasty treat for dog owners and dog lovers

Bookgeeks.co.uk
Utter magic. Edward Stourton is civilized, charming, and writes like an angel. The dogs all spring to life but this is a gorgeous book for everybody - not just for dog lovers. I love it.

Jilly Cooper