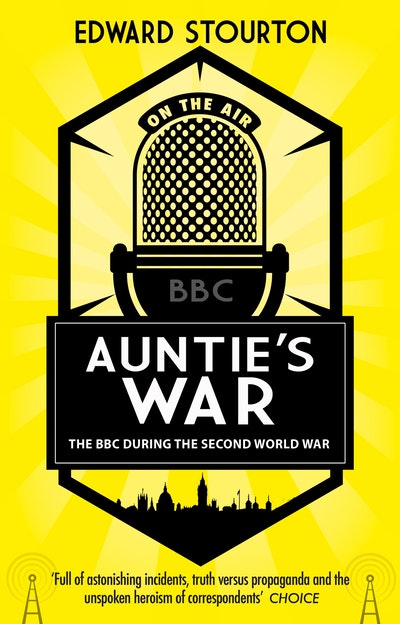 Published:

18 October 2018

ISBN:

9781784160791

Imprint:

Black Swan

Format:

Paperback

Pages:

432

RRP:

$19.99
Auntie's War
The BBC during the Second World War
---
---
A BBC R4 Book of the Week for 2018, Edward Stourton vividly recounts the story of the BBC during WW2 and in doing so gives a remarkable portrait of a unique institution, an entirely fresh perspective on the war, and a new insight into broadcasting culture today.
"An engaging, balanced and thoroughly researched history. It is often a moving and amusing tale containing plenty of mavericks and colourful episodes." (Lawrence James, The Times)
Auntie's War is a love letter to radio.
The British Broadcasting Corporation is a British institution unlike any other, and its story during the Second World War is also our story. This was Britain's first total war, engaging the whole nation, and the wireless played a crucial role in it. For the first time, news of the conflict reached every living room - sometimes almost as it happened; and at key moments:
- Chamberlain's announcement of war
- The Blitz
- The D-Day landings
- De Gaulle's broadcasts from exile
- Churchill's fighting speeches
Radio offered an incomparable tool for propaganda; it was how coded messages, both political and personal, were sent across Europe, and it was a means of sending less than truthful information to the enemy.
Edward Stourton is a sharp-eyed, wry and affectionate companion on the BBC's wartime journey, investigating archives, diaries, letters and memoirs to examine what the BBC was and what it stood for. Auntie's War is an incomparable insight into why we have the broadcast culture we do today.
A BBC RADIO 4: BOOK OF THE WEEK
Published:

18 October 2018

ISBN:

9781784160791

Imprint:

Black Swan

Format:

Paperback

Pages:

432

RRP:

$19.99
The story of the BBC during the war has hardly been told though it is both fascinating and important. Edward Stourton's book is an engrossing account of this important time for one of our great institutions, perhaps to be read along side Penelope Fitzgerald's brilliant novel Human Voices.

Chris Patten, Lord Patten of Barnes
An engaging, balanced and thoroughly researched history. It is often a moving and amusing tale containing plenty of mavericks and colourful episodes.

Lawrence James, The Times
This engaging book about the BBC is full of astonishing incidents, truth versus propaganda and the unspoken heroism of correspondents. It tells how eyewitness reports gave a voice to everyone for the first time.

CHOICE
Fascinating, complex and exhaustively researched ... This is a book that travels far beyond the bomb-scarred walls of Broadcasting House, bringing the reader as it did the 1940s listening public, the drama and immediacy of the war, and eventually the reality of a post-Nazi world, where Dimbleby's pared down description of the liberation of Belsen must be one of the most shattering pieces of ever broadcast.

Juliet Nicolson, Spectator
This book captures how and why the BBC came to be trusted around the world so much that people like my grandparents - refugees from the Nazis - would hide in a cupboard every day with their short wave radio just to hear the truth as reported by the BBC.

Nick Robinson
Highly readable. Auntie's War captures the peculiar mix of establishment conservatism and technocratic progressivism that shaped the BBC during its first decades, and demonstrates the huge reward in soft power that Britain reaped from its broadcasts to occupied Europe . . . He successfully brings out the craft that enabled the best radio performers to enthral their listeners.

Dan Todman, BBC History Magazine
Highly readable history

Ian Jack, London Review of Books
Must read: an affectionate and finely researched look at the BBC's inner workings during this critical period.

Jane Shilling, Daily Mail
Broadcaster Ed Stourton's history of the BBC during the war is rich in incident and character and almost makes you fall in love with the old girl again.

Choice Magazine
Lively...a definitive account

The i Newspaper
The BBC had a "good war". It generally gave a high-minded moral tone to Britain's war effort, entertained the people during dark and uncertain days and won their affection and confidence. In this engaging, balanced and thoroughly researched history, Edward Stourton, a veteran broadcaster, reveals how and why this occurred. It is a moving and amusing tale full of colourful episodes.

Lawrence James, The Times