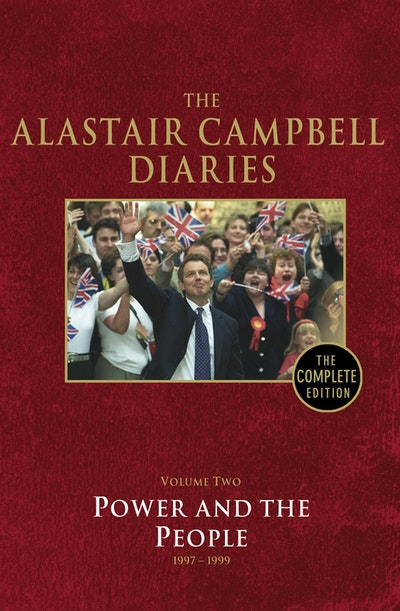 Published:

1 March 2011

ISBN:

9781409049623

Imprint:

Cornerstone Digital

Format:

EBook

Pages:

816
Diaries Volume Two
Power and the People
---
---
---
The second volume of Campbell's riveting diaries, rejoining New Labour as they come into power.
Power & the People covers the first two years of the New Labour government, beginning with their landslide victory at the polls in 1997.
This second voume of Campbell's unexpurgated diaries details the initial challenges faced by Labour as they come to power and settle into running the country. It covers an astonishing array of events and personalities, progress and setbacks, crises and scandals, as Blair and his party make the transition from opposition to office.
Published:

1 March 2011

ISBN:

9781409049623

Imprint:

Cornerstone Digital

Format:

EBook

Pages:

816
Praise for Diaries Volume Two
Like the Bloomsbury Group of the Twenties, the New Labour clique is churning out an apparently inexhaustible number of memoirs, diaries and memorabilia. Alastair Campbell's diaries are by far the most important record to have emerged. Nothing like them exists in British political writing. They are a product of almost monastic self-discipline. No matter how gruelling the circumstances, Campbell found time to settle down and make a daily record of events, which at the most frenetic times could extend to several thousand words . . . The account of Blair's wise and agile handling of the crisis that followed the death of Princess Diana is powerful and authentic

Telegraph
Plunging into the second volume of Alastair Campbell's diaries is like opening a Samuel Richardson novel. The tone is breathless and excitable and the dramatic world of backstabbing, tittle-tattle and palace intrigue is instantly captivating. Historians will scour the book for valuable new information. Practitioners of media management will regard it as a classic

Spectator
The real value of the 'complete' diaries lie in their total immersion in the fierce urgency of the present tense . . . The diaries capture what seemed to be important at the time, without knowing where it would lead or what was coming next. So, huge issues creep up without historical fanfare, as the author, at the end of a long day, has no idea how important they will seem the next day . . . Campbell is a great diarist, and precisely because he is not a stylist. His is spare, Orwellian prose, compelling by virtue of his position and his narrative grip - a favourite Campbell word. Whatever you think of Blair and the Blair years, this is what is was like at the time.

John Rentoul, Independent on Sunday
It should be required reading for coalition MPs because, despite a sometimes exhausting level of detail, there is still no better minute-by-minute account of what life is like at No.10.

Gaby Hinsliff, Guardian
Although there has been no shortage of memoirs from the new Labour era, this is without doubt the most authoritative. Campbell is no ordinary spin doctor. He enjoyed total access not only to Tony Blair and the New Labour court but also to just about every mover and shaker in the global power elite up to and including the US President.

Chris Mullin, The Times
A fascinating, candid account of recent history

Financial Times