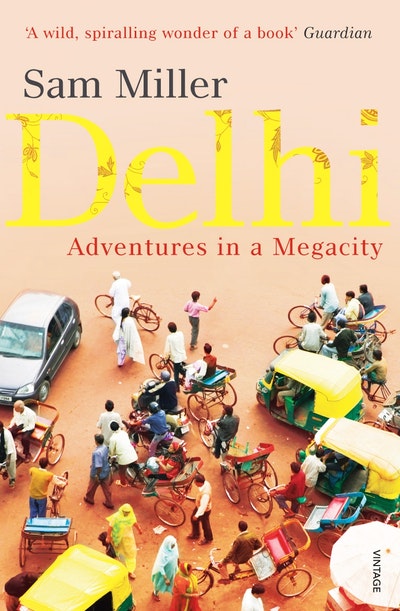 Published:

1 September 2010

ISBN:

9780099526742

Imprint:

Vintage

Format:

Paperback

Pages:

304

RRP:

$24.99
Delhi
Adventures in a Megacity
---
---
An extraordinary portrait of one of the world's largest cities and India's baffling, bustling capital.
In an extraordinary portrayal of one of the world's fastest growing cities, Sam Miller sets out to discover the real Delhi. Following a spiral course through the city, he visits its less celebrated destinations; the unexpected, the ignored and the eccentric.
Through his encounters with Delhi's people - from a professor of astrophysics to a crematorium attendant, from ragpickers to members of the Police Brass Band - Miller creates a richly entertaining portrait of what this megacity means to its residents. The modern Delhi he depicts, in all its humour and humanity, is one whose future concerns us all.
Published:

1 September 2010

ISBN:

9780099526742

Imprint:

Vintage

Format:

Paperback

Pages:

304

RRP:

$24.99
The liveliest of city travelogues, a beguiling introduction to the Indian capital and an irresistible read for even the faintly curious

Literary Review
A chronicle that rivals its subject matter in energy and scope...His talent is dizzying and his narrative a rich accomplishment. I walked miles in Delhi - without moving an inch

The Times
A dizzying, droll travelogue...Miller's multitudinous city snapshots elucidates the paradoxes of globalisation without judgement, and his tales of urban wandering form a valuable archive of a rapidly transforming city. Miller's forays into city slums are poignant, humanising evocations of Delhi's underside

Hirsh Sawnhey, The Guardian
A thoroughly entertaining book - even down to the countless footnotes - about a fascinating city

Financial Times
A quirky and affectionate account

Siddhartha Deb, Times Literary Supplement
Teems with strange stories and bizarre quiddities, rich discoveries and unexpected diversions....both a quest and a love letter, and one which is as pleasingly eccentric and anarchic as its subject

William Dalrymple, Scotsman
An erudite, comical portrait-of-a-city...an entertaining and thoughtful book

Evening Standard
For all its entertaining eccentricities Delhi is careful to maintain a strong sense of the city's sad heritage of religious factionalism, pollution, rioting, poverty and crime.

New Statesman
A uniquely revealing travelogue, closer in spirit to WG Sebald and Ian Sinclair than the usual nostalgia-fest or trend-hunting of Britons' books about India.

Independent
Insatiably curious and pleasingly thorough... The Delhi in his writing is a diverse, energised dreamscape, filled with quirks and wonders, and this is among the best I've read for a cross-section of a city.

Independent on Sunday
A wild, spiralling wonder of a book...the sharpest reflection of the capital since William Dalrymple's City of Djinns...Read this book and laugh, grow and gaze in gob-smacked wonder at India's whirling dreamtown

Rory Maclean, Guardian