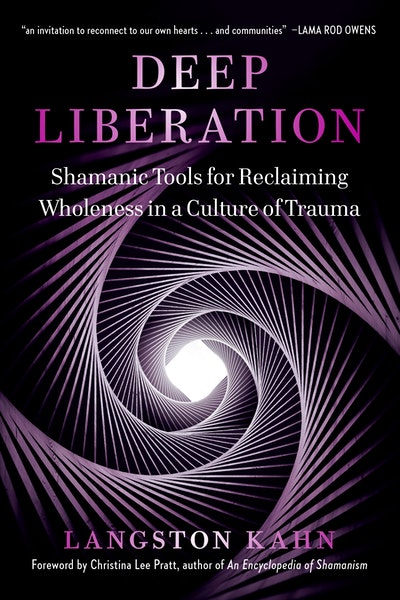 Published:

19 April 2021

ISBN:

9781623174927

Imprint:

North Atlantic

Format:

Paperback

Pages:

328

RRP:

$25.99
Deep Liberation
Shamanic Tools for Reclaiming Wholeness in a Culture of Trauma
---
---
Tools for radical transformation: becoming whole in a culture of trauma.
To create a world free from oppression, we each have to come face to face with the beliefs, stories, and actions that maintain these systems--within ourselves. In indigenous cultures throughout the world, it's understood that true transformation starts in the body, with a change of heart. But how can we create a new story of transformation and liberation if we haven't learned to heal our own stories? How can we change the hearts of others when we can't change our own?
Shamanic healer Langston Kahn introduces Deep Liberation Process, a body-based, step-by-step approach that encourages us to dive deeply into past trauma and heartbreak and address it at the root to reclaim our power. Kahn shares a practice to radically transform the range of fear-based stories we each hold in ourselves: from traumatic experiences, oppression, and habitual emotional patterns to the outmoded beliefs that hold us back from healing, transforming, and freeing our authenticity and unique genius.
Each chapter guides readers in gaining the awareness and skills necessary to become accountable to the heart. Bridging the shamanic wisdom of ancient spirituality with the needs and demands of modern-day life, Kahn offers concrete skills to cultivate deep grounding, boundaries, and a healthy energy body; practices for nurturing relationships with helping spirits and the divine; rituals, ceremonies, and spellwork for deep transformation; and tools for effectively tending personal and collective well-being in community.
Published:

19 April 2021

ISBN:

9781623174927

Imprint:

North Atlantic

Format:

Paperback

Pages:

328

RRP:

$25.99