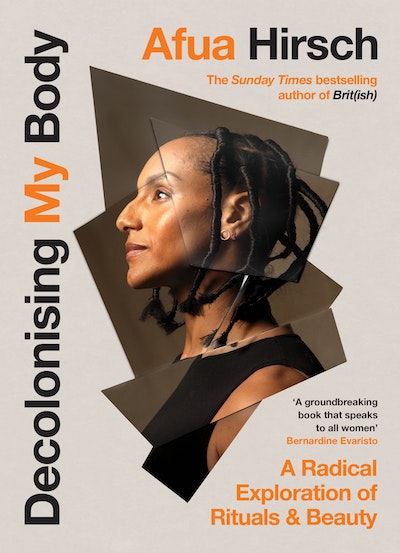 Published:

19 November 2023

ISBN:

9781529908664

Imprint:

Square Peg

Format:

Hardback

Pages:

224

RRP:

$62.00
Decolonising My Body
A radical exploration of rituals and beauty
---
---
---
The Sunday Times bestselling broadcaster takes us on a global exploration of ancestral beauty practices. Discover how modern mainstream Eurocentric beauty standards have evolved and how minoritized groups can transcend them by reclaiming their cultural roots.
How do we determine what is beautiful? Whose standards are we trying to meet when we spend our hard-earned money on our haircare, skincare and makeup; where do they come from, and how can we learn to undo them?
Upon getting her first tattoo at 40 years old, award-winning journalist Afua Hirsch embarked on a journey to reclaim her body from the colonial ideas of purity, adornment and ageing she - and many of us - absorbed while growing up. Informed by research from around the world, Afua will look at how individual and collective notions of what is beautiful are constructed or stripped away from us. Through personal anecdotes, interviews from beauty experts, practitioners and service users, she explores the global history of skin, hair and body modification rituals. These insights and discoveries will empower readers to reconnect with their cultures of origin, better understand the link between beauty and politics, and liberate themselves from mainstream beauty standards that aren't serving them.
Published:

19 November 2023

ISBN:

9781529908664

Imprint:

Square Peg

Format:

Hardback

Pages:

224

RRP:

$62.00
Praise for Decolonising My Body
Exceptionally rich, inspiring, challenging, wise and moving. I didn't realise I needed this book until I read it and felt stirrings towards my own ancestral awakening of African female cultural beliefs and practices that were sadly long ago lost to the colonial project. This is a ground-breaking book that speaks to all women.

Bernardine Evaristo, author of 'Girl, Woman, Other'
Exceptionally rich, inspiring, challenging, wise and moving. I didn't realise I needed this book until I read it and felt stirrings towards my own ancestral awakening of African female cultural beliefs and practices that were sadly long ago lost to the colonial project. This is a ground-breaking book that speaks to all women.

Bernardine Evaristo, author of 'Girl, Woman, Other'
Exceptionally rich, inspiring, challenging, wise and moving. I didn't realise I needed this book until I read it and felt stirrings towards my own ancestral awakening of African female cultural beliefs and practices that were sadly long ago lost to the colonial project. This is a ground-breaking book that speaks to all women.

Bernardine Evaristo, author of 'Girl, Woman, Other'
Afua has cut through so much of the noise to provide an enlightening and necessary reflection on how we can learn from the wisdom and beauty of our ancestors to become spiritually healthier humans. This book is a knowledge gift to us all.

Naomi Evans, author of 'The Mixed Race Experience', co-Founder of Everyday Racism
Afua has cut through so much of the noise to provide an enlightening and necessary reflection on how we can learn from the wisdom and beauty of our ancestors to become spiritually healthier humans. This book is a knowledge gift to us all.

Naomi Evans, author of 'The Mixed Race Experience', co-Founder of Everyday Racism
Afua has cut through so much of the noise to provide an enlightening and necessary reflection on how we can learn from the wisdom and beauty of our ancestors to become spiritually healthier humans. This book is a knowledge gift to us all.

Naomi Evans, author of 'The Mixed Race Experience', co-Founder of Everyday Racism
Praise for Brit(ish): Highly personal and yet instantly universal, this is a book that millions will instantly relate to. The book for our divided and dangerous times.

David Olusoga, author of 'Black and British'
Praise for Brit(ish): Highly personal and yet instantly universal, this is a book that millions will instantly relate to. The book for our divided and dangerous times.

David Olusoga, author of 'Black and British'
Praise for Brit(ish): Highly personal and yet instantly universal, this is a book that millions will instantly relate to. The book for our divided and dangerous times.

David Olusoga, author of 'Black and British'
Praise for Brit(ish): A warm, informative and occasionally heart-wrenching blend of personal and political and the messiness between the two'

Nikesh Shukla, author of 'The Good Immigrant'
Praise for Brit(ish): A warm, informative and occasionally heart-wrenching blend of personal and political and the messiness between the two'

Nikesh Shukla, author of 'The Good Immigrant'
Praise for Brit(ish): A warm, informative and occasionally heart-wrenching blend of personal and political and the messiness between the two'

Nikesh Shukla, author of 'The Good Immigrant'
There's something on every page of this book that you didn't know before, or makes you look at things a new. An important publication.

Sathnam Sanghera, author of 'Stolen History' and 'Empireland'
There's something on every page of this book that you didn't know before, or makes you look at things a new. An important publication.

Sathnam Sanghera, author of 'Stolen History' and 'Empireland'
There's something on every page of this book that you didn't know before, or makes you look at things a new. An important publication.

Sathnam Sanghera, author of 'Stolen History' and 'Empireland'
Decolonising My Body is Hirsch's pilgrimage towards another definition of rest and care, one that feels ancestral and intimate. As a reader you can't help but be swept up in her quest of gentle unlearning and relearning

Niellah Arboinne, The Guardian
Decolonising My Body is Hirsch's pilgrimage towards another definition of rest and care, one that feels ancestral and intimate. As a reader you can't help but be swept up in her quest of gentle unlearning and relearning

Niellah Arboinne, The Guardian
Decolonising My Body is Hirsch's pilgrimage towards another definition of rest and care, one that feels ancestral and intimate. As a reader you can't help but be swept up in her quest of gentle unlearning and relearning

Niellah Arboinne, The Guardian
Disarmingly honest... quietly radical

Evening Standard
Disarmingly honest... quietly radical

Evening Standard
Disarmingly honest... quietly radical

Evening Standard
A remarkable journey to unlearn western beauty standards and explore ancestral skin, hair and body modification rituals.

Funmi Fetto, Observer
A remarkable journey to unlearn western beauty standards and explore ancestral skin, hair and body modification rituals.

Funmi Fetto, Observer
A remarkable journey to unlearn western beauty standards and explore ancestral skin, hair and body modification rituals.

Funmi Fetto, Observer
The journalist, commentator and author of Brit(ish) reflects on twelve months radical unlearning of Eurocentric and patriarchal conventions of beauty in this powerful and challenging volume.

Waterstones, 'Best Books of 2023: Politics'
The journalist, commentator and author of Brit(ish) reflects on twelve months radical unlearning of Eurocentric and patriarchal conventions of beauty in this powerful and challenging volume.

Waterstones, 'Best Books of 2023: Politics'
The journalist, commentator and author of Brit(ish) reflects on twelve months radical unlearning of Eurocentric and patriarchal conventions of beauty in this powerful and challenging volume.

Waterstones, 'Best Books of 2023: Politics'
I would wholeheartedly recommend Decolonising My Body by Afua Hirsch. It is a very brave and honest exploration, almost and excavation of Eurocentric standards of beauty and perceptions of body, particularly of the female body. It is also a calm and wise call of an awakening, a friendly – or sisterly – invitation to a transformative journey beyond these mental walls that have been erected around and between us by capitalism and patriarchy and colonialism. I found it both universal and timely

Elif Shafak, The New Statesman Books of the Year 2023
I would wholeheartedly recommend Decolonising My Body by Afua Hirsch. It is a very brave and honest exploration, almost and excavation of Eurocentric standards of beauty and perceptions of body, particularly of the female body. It is also a calm and wise call of an awakening, a friendly – or sisterly – invitation to a transformative journey beyond these mental walls that have been erected around and between us by capitalism and patriarchy and colonialism. I found it both universal and timely

Elif Shafak, The New Statesman Books of the Year 2023
I would wholeheartedly recommend Decolonising My Body by Afua Hirsch. It is a very brave and honest exploration, almost and excavation of Eurocentric standards of beauty and perceptions of body, particularly of the female body. It is also a calm and wise call of an awakening, a friendly – or sisterly – invitation to a transformative journey beyond these mental walls that have been erected around and between us by capitalism and patriarchy and colonialism. I found it both universal and timely

Elif Shafak, The New Statesman Books of the Year 2023
Decolonising my Body is both a generous offering, and a joy filled testimony. Afua skilfully pulls us into her world, and generously allows us to accompany her on a journey of questioning and unpacking notions of beauty. This exploration lights a path for all people who seek to (re)connect with more expansive understandings of beauty.

Nana Darkoa Sekyiamah, author of 'The Sex Lives of African Women'
Decolonising my Body is both a generous offering, and a joy filled testimony. Afua skilfully pulls us into her world, and generously allows us to accompany her on a journey of questioning and unpacking notions of beauty. This exploration lights a path for all people who seek to (re)connect with more expansive understandings of beauty.

Nana Darkoa Sekyiamah, author of 'The Sex Lives of African Women'
Decolonising my Body is both a generous offering, and a joy filled testimony. Afua skilfully pulls us into her world, and generously allows us to accompany her on a journey of questioning and unpacking notions of beauty. This exploration lights a path for all people who seek to (re)connect with more expansive understandings of beauty.

Nana Darkoa Sekyiamah, author of 'The Sex Lives of African Women'
A vital, challenging account of reassessing body image beyond the colonial, patriarchal gaze, told with rigour and purpose.

i