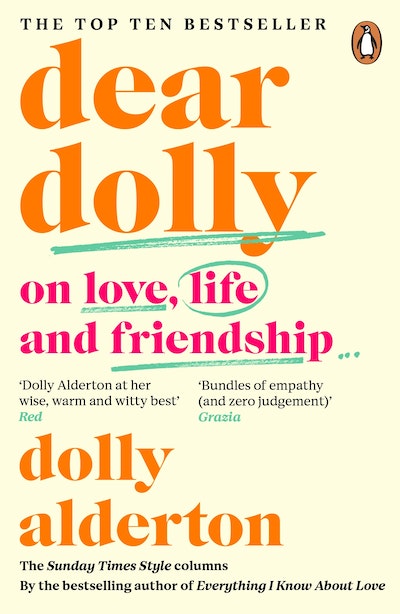 Published:

27 June 2023

ISBN:

9780241998137

Imprint:

Penguin General UK

Format:

Paperback

Pages:

256

RRP:

$22.99
Dear Dolly
On Love, Life and Friendship, the instant Sunday Times bestseller
---
---
---
From the bestselling and beloved author of Everything I Know about Love and Ghosts: a collection of her favourite Dear Dolly agony aunt letters and answers from her hugely popular Sunday Times Style column: with an introduction by Dolly.
Since early 2020, Dolly Alderton has been sharing her wisdom, warmth and wit with the countless people who have written in to her Dear Dolly agony aunt column in The Sunday Times Style. Their questions range from the painfully - and sometimes hilariously - relatable to the occasionally bizarre. They include breakups and body issues, families, friendships, dating, divorce, the pleasures and pitfalls of social media, sex, loneliness, longing, love and everything in between.
Without judgement, and with deep empathy informed by her own, much-chronicled adventures in love, friendship and dating, Dolly leads us by the hand through the various labyrinths of life, proving that a problem shared is truly a problem halved.
Published:

27 June 2023

ISBN:

9780241998137

Imprint:

Penguin General UK

Format:

Paperback

Pages:

256

RRP:

$22.99
Dolly Alderton is so gifted at making people care. A rare talent

Marian Keyes
Dolly Alderton is so gifted at making people care. A rare talent

Marian Keyes
Dolly Alderton is so gifted at making people care. A rare talent

Marian Keyes
Dolly Alderton is so gifted at making people care. A rare talent

Marian Keyes
Dolly Alderton is so gifted at making people care. A rare talent

Marian Keyes
Alderton is Nora Ephron for the millennial generation

Elizabeth Day
Alderton is Nora Ephron for the millennial generation

Elizabeth Day
Alderton is Nora Ephron for the millennial generation

Elizabeth Day
Alderton is Nora Ephron for the millennial generation

Elizabeth Day
Alderton is Nora Ephron for the millennial generation

Elizabeth Day
Dolly Alderton is never less than dazzling on the travails of the human heart

Clover Stroud
Dolly Alderton is never less than dazzling on the travails of the human heart

Clover Stroud
Dolly Alderton is never less than dazzling on the travails of the human heart

Clover Stroud
Dolly Alderton is never less than dazzling on the travails of the human heart

Clover Stroud
Dolly Alderton is never less than dazzling on the travails of the human heart

Clover Stroud
Alderton's wise words can resonate with women of all ages. She feels like a best friend and your older sister all rolled into one and her pages wrap around you like a warm hug

Evening Standard, on Everything I Know about Love
Alderton's wise words can resonate with women of all ages. She feels like a best friend and your older sister all rolled into one and her pages wrap around you like a warm hug

Evening Standard, on Everything I Know about Love
Alderton's wise words can resonate with women of all ages. She feels like a best friend and your older sister all rolled into one and her pages wrap around you like a warm hug

Evening Standard, on Everything I Know about Love
Alderton's wise words can resonate with women of all ages. She feels like a best friend and your older sister all rolled into one and her pages wrap around you like a warm hug

Evening Standard, on Everything I Know about Love
Alderton's wise words can resonate with women of all ages. She feels like a best friend and your older sister all rolled into one and her pages wrap around you like a warm hug

Evening Standard, on Everything I Know about Love
Capturing the hearts and minds of young romantics and dreamers, she offers sage and sisterly advice to those in need

Magic Radio Book Club
Capturing the hearts and minds of young romantics and dreamers, she offers sage and sisterly advice to those in need

Magic Radio Book Club
Capturing the hearts and minds of young romantics and dreamers, she offers sage and sisterly advice to those in need

Magic Radio Book Club
Capturing the hearts and minds of young romantics and dreamers, she offers sage and sisterly advice to those in need

Magic Radio Book Club
Capturing the hearts and minds of young romantics and dreamers, she offers sage and sisterly advice to those in need

Magic Radio Book Club
Her refreshing take makes for compulsive reading. The result is an oddly soothing book, as the problems of others leave you not with a sense of schadenfreude but with the comforting realisation that something you have felt, or are feeling, has been felt by countless others - and it will always be that way

Daily Mail
Her refreshing take makes for compulsive reading. The result is an oddly soothing book, as the problems of others leave you not with a sense of schadenfreude but with the comforting realisation that something you have felt, or are feeling, has been felt by countless others - and it will always be that way

Daily Mail
Her refreshing take makes for compulsive reading. The result is an oddly soothing book, as the problems of others leave you not with a sense of schadenfreude but with the comforting realisation that something you have felt, or are feeling, has been felt by countless others - and it will always be that way

Daily Mail
Her refreshing take makes for compulsive reading. The result is an oddly soothing book, as the problems of others leave you not with a sense of schadenfreude but with the comforting realisation that something you have felt, or are feeling, has been felt by countless others - and it will always be that way

Daily Mail
Her refreshing take makes for compulsive reading. The result is an oddly soothing book, as the problems of others leave you not with a sense of schadenfreude but with the comforting realisation that something you have felt, or are feeling, has been felt by countless others - and it will always be that way

Daily Mail
Alderton has struck a chord with a generation ... Invaluable ... A must for die-hard Dolly fans

Heat
Alderton has struck a chord with a generation ... Invaluable ... A must for die-hard Dolly fans

Heat
Alderton has struck a chord with a generation ... Invaluable ... A must for die-hard Dolly fans

Heat
Alderton has struck a chord with a generation ... Invaluable ... A must for die-hard Dolly fans

Heat
Alderton has struck a chord with a generation ... Invaluable ... A must for die-hard Dolly fans

Heat
With a thoughtful essay about what answering others' questions has taught her, this collection of Alderton's agony aunt advice offers bundles of empathy (and zero judgement) about life's problems, from totally relatable dilemmas to the entertainingly voyeuristic

Grazia
With a thoughtful essay about what answering others' questions has taught her, this collection of Alderton's agony aunt advice offers bundles of empathy (and zero judgement) about life's problems, from totally relatable dilemmas to the entertainingly voyeuristic

Grazia
With a thoughtful essay about what answering others' questions has taught her, this collection of Alderton's agony aunt advice offers bundles of empathy (and zero judgement) about life's problems, from totally relatable dilemmas to the entertainingly voyeuristic

Grazia
With a thoughtful essay about what answering others' questions has taught her, this collection of Alderton's agony aunt advice offers bundles of empathy (and zero judgement) about life's problems, from totally relatable dilemmas to the entertainingly voyeuristic

Grazia
With a thoughtful essay about what answering others' questions has taught her, this collection of Alderton's agony aunt advice offers bundles of empathy (and zero judgement) about life's problems, from totally relatable dilemmas to the entertainingly voyeuristic

Grazia
A compendium of good advice from her Sunday Times columns, Dear Dolly is Dolly Alderton at her wise, warm and witty best. All of human life is contained in these pages: from dating apps to eating disorders, too much sex, not enough sex and the ebb and flow of friendships, relationships and situationships. I felt like a better, kinder person for having read these letters and Dolly's thoughtful replies

Red
A compendium of good advice from her Sunday Times columns, Dear Dolly is Dolly Alderton at her wise, warm and witty best. All of human life is contained in these pages: from dating apps to eating disorders, too much sex, not enough sex and the ebb and flow of friendships, relationships and situationships. I felt like a better, kinder person for having read these letters and Dolly's thoughtful replies

Red
A compendium of good advice from her Sunday Times columns, Dear Dolly is Dolly Alderton at her wise, warm and witty best. All of human life is contained in these pages: from dating apps to eating disorders, too much sex, not enough sex and the ebb and flow of friendships, relationships and situationships. I felt like a better, kinder person for having read these letters and Dolly's thoughtful replies

Red
A compendium of good advice from her Sunday Times columns, Dear Dolly is Dolly Alderton at her wise, warm and witty best. All of human life is contained in these pages: from dating apps to eating disorders, too much sex, not enough sex and the ebb and flow of friendships, relationships and situationships. I felt like a better, kinder person for having read these letters and Dolly's thoughtful replies

Red
A compendium of good advice from her Sunday Times columns, Dear Dolly is Dolly Alderton at her wise, warm and witty best. All of human life is contained in these pages: from dating apps to eating disorders, too much sex, not enough sex and the ebb and flow of friendships, relationships and situationships. I felt like a better, kinder person for having read these letters and Dolly's thoughtful replies

Red
Article