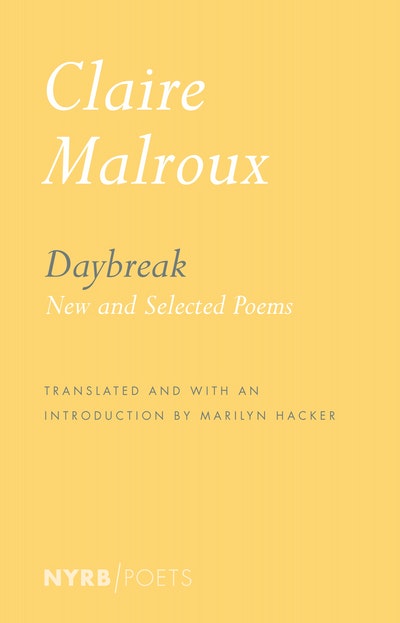 Published:

10 February 2021

ISBN:

9781681375021

Imprint:

NY Review Books

Format:

Paperback

Pages:

304

RRP:

$34.99
Daybreak
New and Selected Poems
---
---
A bilingual collection of poetry, from elegies to poem memoirs, by a revered French master.
For over four decades Claire Malroux has forged a unique path in contemporary French poetry, informed by the French tradition, poets such as Yves Bonnefoy and Mallarmé, and more unusually, by the Anglophone tradition, especially Emily Dickinson, Elizabeth Bishop, and Derek Walcott. A preeminent translator of English poetry into French, Malroux claims as a signal event in her literary life her discovery in 1983 of Dickinson's poetry, which she describes as "an encounter with the uncanny" and the awakening of a "personal affinity." Malroux is one of those rare poets whose work is informed by day-to-day intimacy with a second language in its greatest variations and subtleties. Her poems move between an intense but philosophical and abstract interiority and an acute engagement with the material world. In almost every poem there is a characteristic and unsettling amalgam of past and present that collapses distance and incarnates through metaphor.
This bilingual selection by the award-winning poet and translator Marilyn Hacker presents Malroux's oeuvre from her early lyric poems, to an excerpt from A Long-Gone Sun--a poem-memoir of life in southern France before and during World War II--to new and uncollected poems from two sequences of elegies written after the death of her life partner, the writer Pierre Sylvain.
Published:

10 February 2021

ISBN:

9781681375021

Imprint:

NY Review Books

Format:

Paperback

Pages:

304

RRP:

$34.99