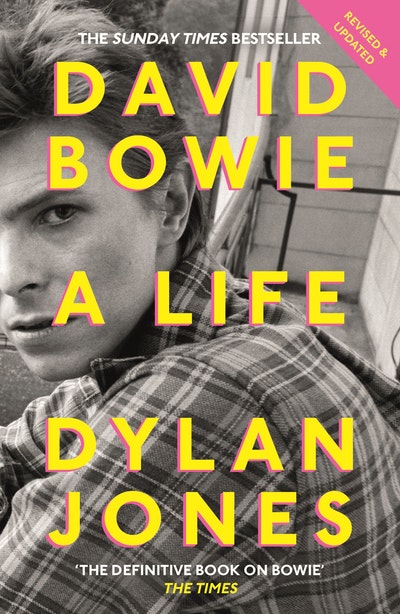 Published:

20 August 2018

ISBN:

9781786090430

Imprint:

Windmill Books

Format:

Paperback

Pages:

592

RRP:

$24.99
David Bowie
A Life
---
---
---
In the manner of George Plimpton's ground-breaking oral biographies of Truman Capote and Edie Sedgwick, this is the definitive oral biography of David Bowie told through over 180 carefully edited and curated original, exclusive interviews with those who knew Bowie best from school friends to global megastars.
** Shortlisted for the NME Best Music Book Award 2018 **
THE SUNDAY TIMES BESTSELLER
A TIMES BOOK OF THE YEAR
A GUARDIAN BOOK OF THE YEAR
A HERALD BOOK OF THE YEAR
AN IRISH INDEPENDENT BOOK OF THE YEAR
'The definitive book on Bowie' The Times
Drawn from a series of conversations between David Bowie and Dylan Jones across three decades, together with over 180 interviews with friends, rivals, lovers, and collaborators - some of whom have never before spoken about their relationship with Bowie - this oral history is an intimate portrait of a remarkable rise to stardom and one of the most fascinating lives of our time.
Profoundly shaped by his relationship with his schizophrenic half-brother Terry, Bowie was a man of intense relationships that often came to abrupt ends. He was a social creature, equally comfortable partying with John Lennon and dining with Frank Sinatra, and in Dylan Jones's telling - by turns insightful and salacious - we see as intimate a portrait as could possibly be drawn.
Including illuminating, never-before-seen material from Bowie himself, drawn from a series of Jones's interviews with him across three decades, DAVID BOWIE is an epic, unforgettable cocktail-party conversation about a man whose enigmatic shapeshifting and irrepressible creativity produced one of the most sprawling, fascinating lives of our time.
***NOW REVISED AND EXPANDED***
Published:

20 August 2018

ISBN:

9781786090430

Imprint:

Windmill Books

Format:

Paperback

Pages:

592

RRP:

$24.99
The definitive book on Bowie

The Times
Dylan Jones made absolutely the right decision to frame his superb life of David Bowie as a multi-voiced oral biography. David Bowie: A Life suits the shape-shifting, beguiling, enigmatic complexities of its subject perfectly. It's hard to imagine anything that will do Bowie better justice

William Boyd, Guardian
Studded with shiny nuggets

Daily Telegraph
The perfect present for music mums and dads

Daily Mirror
The best book on David Bowie you'll ever need or read.

Irish Independent, BOOKS OF THE YEAR
Funny, enlightening, gossipy'

The Herald
Engrossing

Mail on Sunday
Dylan Jones has excavated the cacophony of voices that make up a life and curated a phenomenal portrait of the artist from childhood to the final days. The witnesses who comprise this oral biography animate the pages like characters in a non-fiction novel. Damn nigh peerless.

David Mitchell, author of Cloud Atlas
Jones constructs an oral-history mosaic that will engage even those whose lives were not changed by the appearance of Ziggy Stardust on Top of the Pops in 1972

Guardian, BOOKS OF THE YEAR
There have been many books about David Bowie ... but Dylan Jones's is among the best

Observer
The definitive account of the great man's life, in the words of those who knew him best . lively, funny and warm - and the story, even the well-known bits, still staggers and amazes. It's a brilliant story, and it is tremendously well-told here

Esquire
One of the most colourful and intimate portraits yet painted of Bowie

Vogue
Sparks with admiration and grievances, lust and envy

Sunday Telegraph
Worthy of the Starman . Of all the volumes to appear since Bowie's death, this is the most useful: an oral history that brings together the most incisive reminiscences and memorials

Evening Standard
A vivid catalogue of anecdote, opinion, gossip and memoir

Telegraph Magazine
There is literally no better way to spend your time than by reading about the late, great, beautiful and brilliant David Bowie, brought to you by fellow superfan and GQ editor Dylan Jones

Tatler
A magisterial compilation of startling insights

The Oldie
This oral history is by far the best . It's gossipy, fascinating stuff

The Sun
The perfect accompaniment to roaring fires and languid winter evenings, this book guarantees to see any man through the festive period

Independent
A must-have for Bowie fans

Daily Mirror
Revelatory and surprising - perfect for the Ziggy completist

New York Magazine
Beguiling . the fabulosity of Bowie's life and times lends itself extraordinarily well to the oral history form

San Francisco Chronicle
An affectionate, sometimes surprising, always fascinating picture of a Star Man in the real world

STELLA magazine
Of all the volumes to appear since Bowie's death last year, this is perhaps the most useful

i paper
A treat for enthusiasts [.] it bulges with essential and telling Spinal Tappish gossip

Guardian
An intimate, detailed and gossip-spangled survey of the life of the great enigma

Strong Words magazine
There are sixty-two and a half million books written about David Bowie; this is the one that has been unanimously praised. Indeed, David Bowie: A life might be the only one that you really need.

Loud and Quiet Magazine
You can go to any page and read something really interesting. It's the only book about another artist that I've really enjoyed.

Chris Difford, Daily Express