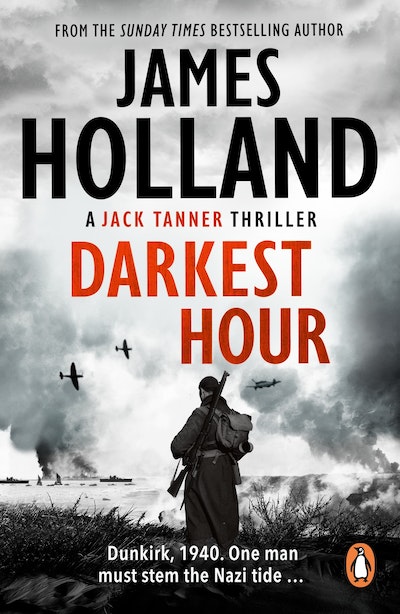 Published:

1 September 2010

ISBN:

9781409082422

Imprint:

Transworld Digital

Format:

EBook

Pages:

528
Darkest Hour
A Jack Tanner Adventure
---
---
---
Sharpe for the Blitz years - the new novel in the highly commercial series featuring Sergeant Jack Tanner
Readers of Robert Harris, Bernard Cornwell and Ken Follett will love this gripping, edge-of-your-seat wartime thriller from bestselling author and historian James Holland. Guaranteed to keep you turning the pages!
'Old-fashioned, testosterone-fuelled escapism and Tanner is a chiselled protagonist straight out of the pages of the old Commando comics' -- Mail on Sunday
'Sharpe for the Blitz years...a meaty, all action yarn!' -- Sunday Telegraph
'Holland is a superb historian who knows his stuff, and his descriptions of the action are terrific' -- Daily Telegraph
'Has the sure touch of someone who knows their subject and enjoys it' -- Daily Mail
'Very difficult to put down' -- ***** Reader review
'An amazing read' -- ***** Reader review
'An adventure from start to finish but with great historical facts thrown in' -- ***** Reader review
**************************************************************************
Dunkirk, 1940: ONE MAN MUST STEM THE NAZI TIDE...
Sergeant Jack Tanner has been posted to a training company on the south-east coast of England where the mysterious deaths of two Polish refugees lead him to believe there has been foul play.
As the Germans launch their Blitzkrieg in Europe, the entire company are sent to join the battle to stop Hitler's drive across the Low Countries. Pitted against the die-hard Nazis of the SS 'Death's Head' Division and the great panzer commander, General Rommel himself, it is left to Tanner to get his men back to Allied lines.
But if they are to have any hope of surviving the mayhem of Dunkirk, Tanner must first deal with an enemy far more deadly than the Germans...
Jack Tanner's adventures continue in Blood of Honour.
Published:

1 September 2010

ISBN:

9781409082422

Imprint:

Transworld Digital

Format:

EBook

Pages:

528
Has the sure touch of someone who knows their subject and enjoys it

Daily Mail
Holland is a superb historian who knows his stuff, and his descriptions of the action are terrific

Daily Telegraph
Old-fashioned, testosterone-fuelled escapism and Tanner is a chiselled protagonist straight out of the pages of the old Commando comics

Mail on Sunday
Sharpe for the Blitz years...a meaty, all action yarn!

Sunday Telegraph
This is a well-researched page-turner that keeps you hungry for more. An exciting tale full of historical details and action

Soldier magazine