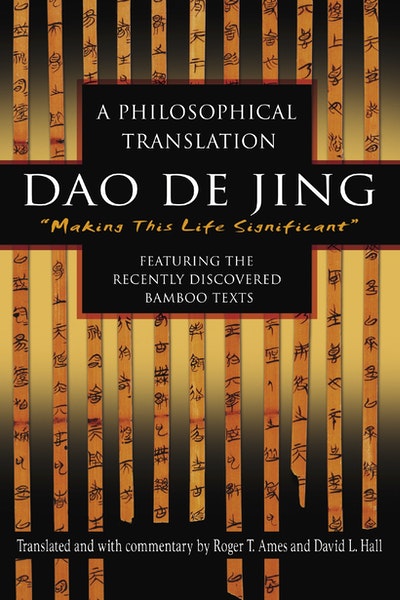 Published:

15 December 2003

ISBN:

9780345444196

Imprint:

Ballantine

Format:

Paperback

Pages:

256

RRP:

$29.99
Dao De Jing
---
---
Composed more than 2,000 years ago during a turbulent period of Chinese history, the Dao de jing set forth an alternative vision of reality in a world torn apart by violence and betrayal. Daoism, as this subtle but enduring philosophy came to be known, offers a comprehensive view of experience grounded in a full understanding of the wonders hidden in the ordinary. Now in this luminous new translation, based on the recently discovered ancient bamboo scrolls, China scholars Roger T. Ames and David L. Hall bring the timeless wisdom of the Dao de jing into our contemporary world.
Though attributed to Laozi, "the Old Master," the Dao de jing is, in fact, of unknown authorship and may well have originated in an oral tradition four hundred years before the time of Christ. Eschewing philosophical dogma, the Dao de jing set forth a series of maxims that outlined a new perspective on reality and invited readers to embark on a regimen of self-cultivation. In the Daoist world view, each particular element in our experience sends out an endless series of ripples throughout the cosmos. The unstated goal of the Dao de jing is self-transformation–the attainment of personal excellence that flows from the world and back into it. Responding to the teachings of Confucius, the Dao de jing revitalizes moral behavior by recommending a spontaneity made possible by the cultivated "habits" of the individual.
In this elegant volume, Ames and Hall feature the original Chinese texts of the Dao de jing and translate them into crisp, chiseled English that reads like poetry. Each of the eighty-one brief chapters is followed by clear, thought-provoking commentary exploring the layers of meaning in the text. The book's extensive introduction is a model of accessible scholarship in which Ames and Hall consider the origin of the text, place the emergence of Daoist philosophy in its historical and political context, and outline its central tenets.
The Dao de jing is a work of timeless wisdom and beauty, as vital today as it was in ancient China. This new version will stand as both a compelling introduction to the complexities of Daoist thought and as the classic modern English translation.
Published:

15 December 2003

ISBN:

9780345444196

Imprint:

Ballantine

Format:

Paperback

Pages:

256

RRP:

$29.99