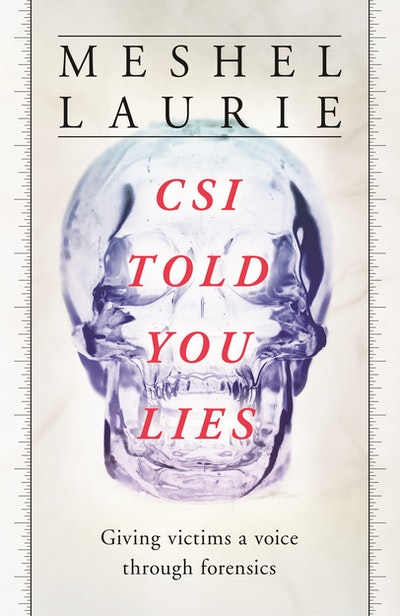 Published:

3 August 2021

ISBN:

9781760898007

Imprint:

Ebury Australia

Format:

Trade Paperback

Pages:

320

RRP:

$34.99
CSI Told You Lies
Giving victims a voice through forensics.
---
---
---
Meshel Laurie, host of the incredibly successful Australian True Crime podcast speaks to the forensic pathologists, homicide detectives, defence barristers and victims' families in this moving and gripping study of violent crime and largescale natural disaster.
CSI TOLD YOU LIES is a surprisingly moving account of the real forensic pathologists at the frontline of Australia's major crime and disaster investigations. These are the men and women whose post-mortem examinations help the dead to speak.
Included in this extraordinary list of investigators are the team that convicted serial killer Peter Dupas, the man who travelled to the Netherlands as part of the victim identification team after MH17 was shot down over Ukraine. Mo, Evie and Otis Maslin's parents Marite and Anthony have also spoken to Meshel, after learning for the first time about the recovery operation.
The incredible story of the identification of over 5000 victims of the 2004 tsunami is told by a specialist who spent 12 months flying in and out of Thailand. For the first 2 weeks of the operation, there was no refrigeration. The same man went on to lead the victim recovery after the Black Saturday bush fires.
All of the forensic pathologists involved in the book are part of the team at the Victorian Institute of Forensic Medicine, (VIFM), a state-of-the-art facility in Melbourne created in the wake of the Lindy Chamberlain case. Victorian Premier John Cain was convinced of the need to fund VIFM by the overwhelming evidence that Mrs Chamberlain had been wrongly convicted of killing her own baby because of the failure of the forensic evidence presented at her trial. Since then VIFM has become a world-leader and team members have been called upon to lead in every major forensic recovery operation of the last 30 years, from the mass graves of Kosovo to earthquakes in Timor and Turkey.
Their daily work though, is more likely to be played out in our most horrific headlines. Former Victoria Legal Aid's Chief Counsel Tim Marsh who defended both Eurydice Dixon and Aya Marsaawe's killers, both of whom were convicted, talks about his close relationships with the VIFM team.
After reading CSI TOLD YOU LIES you'll never read another homicide headline without thinking about the forensic pathologist who happened to be on call. You'll never read another story about a murder trial or an inquest without acknowledging the forensic evidence and considering the brilliance and the sacrifice of the person who submitted it. You'll never hear the terrible news of a disaster without imagining one of the characters in this book pulling a suitcase down from on top of a wardrobe and bidding farewell to their own family for who-knows-how-long.
Published:

3 August 2021

ISBN:

9781760898007

Imprint:

Ebury Australia

Format:

Trade Paperback

Pages:

320

RRP:

$34.99