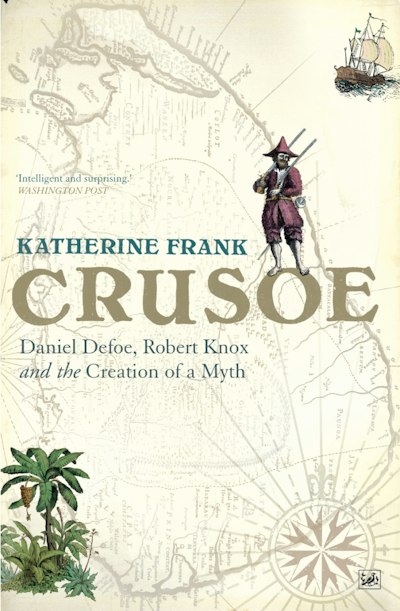 Published:

1 September 2011

ISBN:

9781446444122

Imprint:

Vintage Digital

Format:

EBook

Pages:

352
Crusoe
Daniel Defoe, Robert Knox And The Creation Of A Myth
---
---
---
A remarkable literary hybrid - part biography, part detective story - about the enduring figure of Robinson Crusoe.
January, 1719. A man sits at a table, writing. Nearly sixty, Daniel Defoe is troubled with gout and 'the stone', burdened with a large family and debts, mired in political controversy and legal threats. But for the moment he is preoccupied by a younger man on a barren shore - Robinson Crusoe.
Several miles south another old man, Robert Knox, sits bent over a heavy volume - the only book he has written, published nearly forty years before. The large folio is now worn and tattered, crammed with extra pages covered in notes and emendations.
A leaner copy of Knox's book is also on the shelf in Defoe's library, perhaps even open on the table as he writes.The title page distils its contents: 'An Historical Relation of the Island of Ceylon in the East Indies: Together with an Account of the Detaining in Captivity of the Author and diverse other Englishmen now Living there and of the Author's Miraculous Escape. Illustrated with Figures and a Map of the Island. By Robert Knox, a Captive there near Twenty Years'.
Knox's Historical Relation was a best-seller when it was published in 1681, just a year after he escaped from Ceylon and returned to England. But by 1719, despite Knox's efforts to have a revised edition published, it has long been out of print.
If Defoe had died in 1718, the year before he wrote Robinson Crusoe, few of us would have heard of him. He is principally remembered for this book and its hero. They have a life of their own: in the years since it was published, Crusoe has been abridged, imitated, parodied, dramatized, turned into opera, pantomime, comic books and cartoons, made into a string of films, adapted for reality television and translated into every written language.
Where did Crusoe come from? And what is the secret of his endurance? Crusoe explores the intertwined lives of two real men: Daniel Defoe and Robert Knox and the character and book that emerged from their peculiar conjunction. It is the biography of a book and its hero, the story of Defoe, the man who wrote Robinson Crusoe, and of Robert Knox, the man who was Crusoe.
Published:

1 September 2011

ISBN:

9781446444122

Imprint:

Vintage Digital

Format:

EBook

Pages:

352
Her unusual dual biography is not only a thrilling read but an eye opening account of life in the 17th Century, whether in the stocks in London or marooned somewhere in Paradise

Mail on Sunday
This twin biography gives us a vivid account if two men and their pitiless times, and of their extraordinary adventures, at home and abroad. Frank's extensive research lies lightly on the nice pace and flavour of her story, and she lets us decide for ourselves on the balance between savage and civilised in the late 17th and early 18th centuries'

Irish Times Weekend Review