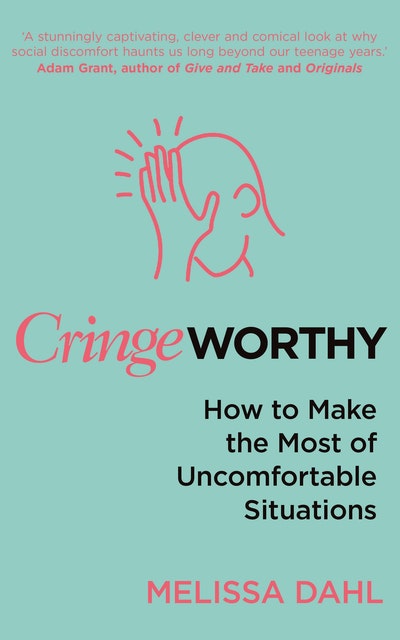 Published:

7 May 2019

ISBN:

9780552173162

Imprint:

Corgi

Format:

Paperback

Pages:

304

RRP:

$24.99
Cringeworthy
How to Make the Most of Uncomfortable Situations
---
---
---
Cringeworthy explores the compelling psychology of awkwardness, and explains why learning to accept your awkward moments can be a social advantage.
Have you ever said goodbye to someone, only to discover that you're both walking in the same direction? Or had your next thought fly out of your brain in the middle of a presentation? Or accidentally liked an old photo on someone's Instagram or Facebook, thus revealing yourself to be a creepy social media stalker?
Melissa Dahl, New York magazine's "Science of Us" editor, has experienced all of those awkward situations, and many more. Now she offers a thoughtful, original take on what it really means to feel awkward. She invites you to follow her into all sorts of mortifying moments, drawing on personal experience and in-depth psychological research to answer questions you've probably pondered at some point, such as:
* Why are situations without clear rules most likely to turn awkward?
* Are people really judging us as harshly as we think they are?
* Does anyone ever truly outgrow their awkward teenage self?
If you can learn to tolerate life's most awkward situations -- networking, difficult conversations, hearing the sound of your own terrible voice -- your awkwardness can be a secret weapon to making better, more memorable impressions. When everyone else is pretending to have it under control, you can be a little braver and grow a little bigger.
Published:

7 May 2019

ISBN:

9780552173162

Imprint:

Corgi

Format:

Paperback

Pages:

304

RRP:

$24.99
A stunningly captivating, clever, and comical look at why social discomfort haunts us long beyond our teenage years. This book didn't just help me make sense of my most awkward moments. It liberated me from feeling embarrassed by them. Well, most of them.

Adam Grant, author of GIVE AND TAKE and ORIGINALS
Melissa Dahl provides a fascinating (and often hilarious) examination of the underdiscussed feeling of awkwardness. Her practical, penetrating insights reveal that understanding what's 'cringeworthy' can help us understand ourselves better--and create happier lives.

Gretchen Rubin, author of THE HAPPINESS PROJECT
In this deeply researched and frequently hilarious book, Melissa Dahl shows that our capacity for cringing with embarrassment—at our own ineptness or other people's—is no mere psychological oddity. Her surprisingly uplifting message: through understanding awkwardness, we can learn to find more joy in the fundamental absurdity of being human.

Oliver Burkeman, author of THE ANTIDOTE
For anyone who's ever felt awkward in a social situation (so, all of us), Melissa Dahl's Cringeworthy is required reading. Dahl offers a thoughtful, original take on what it really means to feel awkward and how to handle them. A way to socialise better, without embarrassment? Sign us up.

Sunday Times
This lively study explains how embracing embarrassing conversations or exposing situations can improve your life. Dahl is exceptionally good at describing emotions and the visceral physical sensations that often accompany them ... pertinent and penetrating.

Katy Guest, The Guardian
Dahl focuses largely on the nature of embarrassment, in exquisite but accessible detail, providing a brilliantly insightful look at what the perceptions of others do to us on a fundamental level. Having it on your shelves would be nothing to be embarrassed about.

Dean Burnett, The Guardian
Cringeworthy unearths all the reasons we wince, flinch, and recoil, and offers emboldening advice for how to take them on. Awkwardness has never been so delightful.

Bianca Bosker, author of CORK DORK
Cringeworthy breaks down the psychological research of why we feel awkward in certain situations, and whether we can get over that burning, uncomfortable sensation of having done something extraordinarily embarrassing or just simply goofing up. There's a certain joy in realizing that we're all a little klutzy, a little tongue-tied, a little embarrassing sometimes—and that's perfectly OK.

The Daily Beast
From inappropriate air kisses to one-sided conversations, our awkward moments remind us how much we have in common.

Oliver Burkeman, The Guardian
A must-read for everyone who's struggled with awkwardness, in high school and beyond.

Inc.
Who says being awkward is a bad thing? Melissa Dahl's Cringeworthy puts a new spin on embarrassing situations and looks at them as opportunities to grow. By the end of it, you'll be embracing the next weird thing you do in public instead of cowering in shame.

Refinery 29
The psychological case for being less self-conscious.

NBC News
If you're blushing, you're still human: why you should lean in to your embarrassment. A lively, funny and often deeply personal investigation into the things that make us shudder.

Salon
Cringeworthy is a scientific exploration of a specific human quirk in the vein of Mary Roach or Malcolm Gladwell, offering sharp insights into what we mean when we call ourselves "awkward". Dahl writes with compassion and understanding.

Buzzfeed
How to embrace your awkwardness and feel better.

Today.com
The guide to awkwardness every Millennial wishes they had in college. An essential, accessible guide to figuring out WTF is the deal with the most painfully human and painfully embarrassing emotion: awkwardness.

Bustle
Awkward conversations can be valuable in the long run. Here's some psychology-based advice for dealing with uncomfortable subjects.

Tonic (Vice)
The upside of awkwardness… Dahl explains why we cringe, and why it can be a good thing.

The Verge
Dahl explains what awkwardness feels like, what makes a situation awkward, and how to use awkwardness like a superpower for moving through the world.

Autostraddle
In a delightful romp through all manner of researches, Dahl explores the 'odd little emotion' to which each of us is prey.

Saga